B&G Foods (BGS) is the maker of well-known brands such as Green Giant, Cream of Wheat, and Pirates Booty Popcorn. The stock is way undervalued and sports a 6.8% dividend yield and trades at a little over one times sales. When the market figures this out, the stock ought to run.
There are 66.59 million shares, the stock trades for $27.80, and the market cap is $1.851 billion.
The dividend is $1.90, and the dividend yield is a whopping 6.8%. Yahoo lists its earnings at $3.26 and its PE at 8.5. Thats a cheap stock.
Sales grew from $725 million in 2013 to $1.668 billion last year. Pretty decent growth, but much of it comes through M&A. Adjusted EBITDA grew from $184 million to $333.2 million over that time frame. That would put the EBITDA margin at 20%.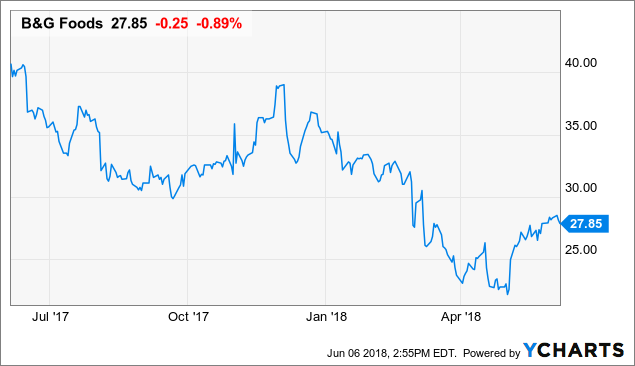 BGS data by YCharts
Its brands include: Green Giant, Back to Nature, Mrs. Dash, Ortega, Bakers Joy, Don Pepino, Cream of Wheat, SnackWells, MacDonalds (reminds me of the Eddie Murphy movie Coming to America when the restaurant owner rips off the McDonalds (NYSE:MCD) name), Skinny Girl, Weber (its food division not the grills), Pirate Brands (popcorn)and Spice Islands. Green Giant accounts for 28% of sales; Mrs. Dash, 12.7%; and Pirate Brands, 10%. The company gets its name from an old brand named Bloch & Guggenheimer.
I did some poking around and saw that many of B&Gs items are available on Amazon (NASDAQ:AMZN). Also saw its items at Costco (COST) and Target (TGT). A big channel that Im a fan of is the low-priced dollar stores. I saw a few items at Dollar General (DG) but couldnt find any at Dollar Tree (DLTR). Dollar Tree also owns Family Dollar. The top ten customers accounted for 54.6% of sales. Walmart (WMT) alone accounted for 24.1%. I see a risk in having that much with one retailer.
A potential risk that I see is that commodity prices are pretty low. A rise in wheat, corn (corn syrup), and other foods is sure to cut into profits. I believe the company is the largest user of maple syrup in the United States.
Probably, the biggest issue with B&G is the amount of debt on the balance sheet. Cash is $118 million, and accounts receivables are $161 million. The liability side shows $111 million in payables and $2 billion in debt. Management could cut that massive dividend and pay down debt, but I dont think they will. What people dont understand about companies like Valeant (VRX) and B&G is that they do indeed carry lots of debt, but their assets are valuable. If the management of Valeant wanted to sell Bausch & Lomb at 9:00 AM on a Monday morning, by 11:00 AM, the deal would be closed. Same thing with B&G. It could hive off Pirate Brands or Cream of Wheat. Maybe, McDonalds would buy MacDonalds so there wouldnt be confusion.
An article from Sum Zero is what got me interested in the stock. The article is by Nick Mazing, an amazing guy. He estimates earnings per share will be $2.05 to $2.25 this year. That puts the PE at 13.6; still cheap. He puts EBITDA numbers at $347.5 million to $365 million. That beats last years numbers and should drive the stock price if it happens.
I was surprised to see all of the things being done with Green Giant. I always think of the mushy green beans that come from a can, which is part of what they do. They also do fashionable foods (my term) like smashed cauliflower and carrot spirals.
So, why is the stock down? In a conference call, Robert Moskow of Credit Suisse opined that there was a lack of confidence in the visibility of the business model. Im from the Show Me State, and investors will buy the stock when they see results.
I think the stock is way undervalued. B&Gs products are easy to understand, and its stable of brands are very well known. With or without the dividend, the stock should rise. Profitable food companies are worth more than one times sales.
Disclosure: I am/we are long BGS, DLTR, DG, VRX.
I wrote this article myself, and it expresses my own opinions. I am not receiving compensation for it (other than from Seeking Alpha). I have no business relationship with any company whose stock is mentioned in this article.