ConocoPhillips (NYSE:COP) is battling a crude oil price environment that is far more volatile in Q2 than it was in Q1. While lower realizations will likely be the core story of the Q2 earnings report, this company is still in a great position to continue to generate free cash flow and return value to shareholders in the form of buybacks and a growing dividend. Additionally, weakness from lower realizations can be offset by the large disposition of Canadian oil sands assets. While the pricing environment for crude oil may continue to be uncertain, choosing an E&P to invest in is a far easier task, with COP being an easy frontrunner.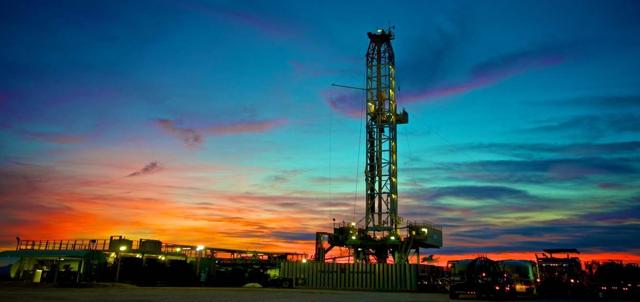 Source: ConocoPhillips
Crude Oil: Where Is It Headed?
When crude oil ticks down, E&Ps suffer and COP is no exception. Just the other day, when crude oil traded down 4% after OPEC announced an extended cut for the next nine months, COP also traded down close to 4%. So, what's happening with crude oil right now? Why is this commodity increasingly volatile? Truth be told, the only time of real stability in crude oil prices in the last twelve months was the three month trading range that closed out 2016 and ran through a majority of Q1 2017. This was showcasing the indecisiveness of investors after the Vienna OPEC meeting in late November 2016 because while production was coming down globally, American production was on an uptrend and inventories were still very high. Now, crude oil is oscillating in a large range and the trend does look down. Should downward momentum persist, it's not out of the question that prices of $45/barrel could be present in a f ew weeks' time.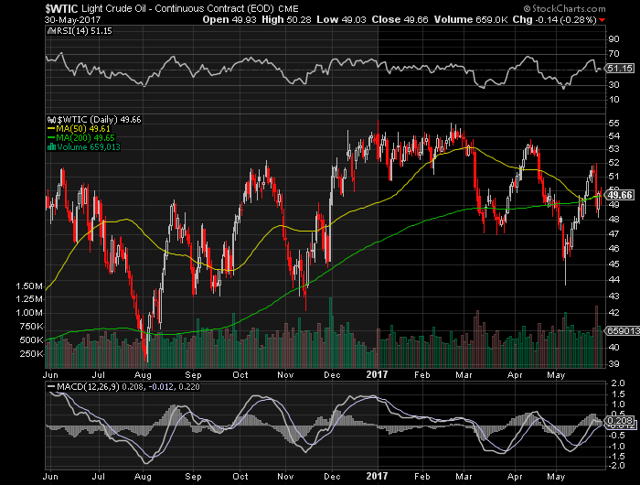 Source: StockCharts
The company itself expects more volatility ahead for crude oil prices, specifically as they relate to Brent prices. Investors keen on the E&P space should be watching inventories, both American and OECD, in order to gauge the direction of crude oil prices. American inventories, while off of their end of Q1 highs, are still sitting well above the five-year average at 516.3 million barrels. OECD Inventories, or rather the gauge for global crude oil inventories, are sitting well above their own five-year average.
So, with American production continually on the rise, thanks to higher rig efficiency and E&Ps taking advantage of far better prices than what was present even a little over a year ago, crude oil prices are subdued below key resistance levels. The bottom line here is that it is taking longer than expected for the crude oil market to rebalance, but that ConocoPhillips has a plan to deal with this volatile market should pr ice weakness persist.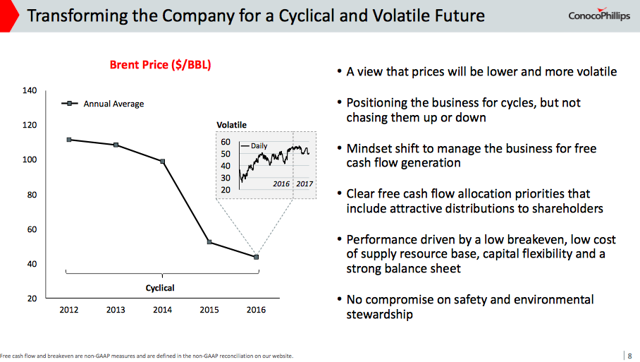 Source: Investor Presentation
There's a lot of negativity present in the market for crude oil right now. On top of high inventories, both domestic and foreign, the rig count in the United States are up substantially YOY. There are currently 908 active rigs in the United States, up 504 rigs from one year ago. That's means more wells are being drilled and more production growth is possible. That's why American production is at 9.32 mbopd, as seen below. The downturn over the past two years was supposed to take production offline, not give an incentive to producers to wait out the low prices, take on a higher level of rig efficiency, and re-glut the market. It could be several quarters before this market rebalances.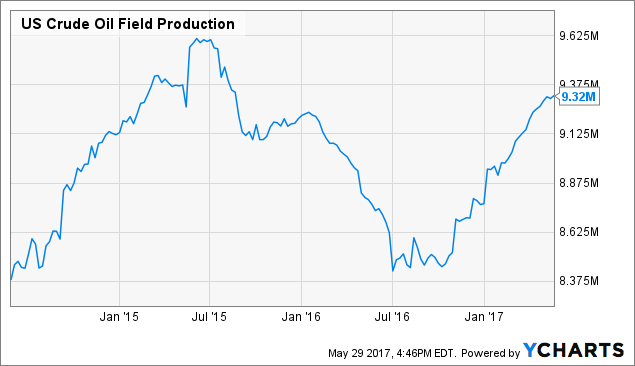 Source: YCharts
Is COP A Buy Now?
I've been saying over the past couple of months that I think ConocoPhillips is one of the better buys in the oil patch right now, even though the market for oil is surrounded by negativity. Since announcing the deal with Cenovus Energy (NYSE:CVE), COP shares have been trading down, mostly in response to not this deal, but lower trending crude oil prices. In fact, COP has almost given up all the gains that the investors initial rewarded the stock upon announcement of the deal with CVE. Now, COP trades below both its 50 and 200 DMA, momentum is down, and oil prices are hanging in the balance. It all seems so negative, but perhaps this is just a great opportunity, especially for the long-term.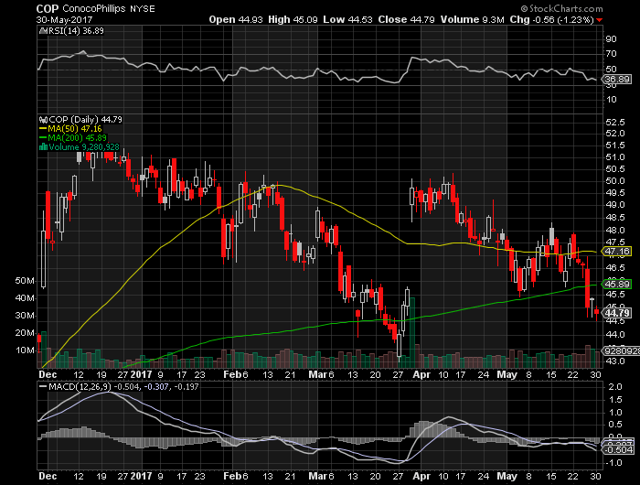 Source: StockCharts
I think one of the core reasons you have to be bullish on COP is that it is one of the few E&Ps that can thrive in a low-priced operating environment. This can't be said by many E&Ps, even two years and a half years after crude oil prices began to slide. This is perhaps best viewed from the perspective of free cash flow, the generation of which has become one of management's top priorities now that the company expects prices to be more volatile in the short-term. The company has produced four straight quarters of free cash flow already, as prices have been near $50/barrel for the better part of a year.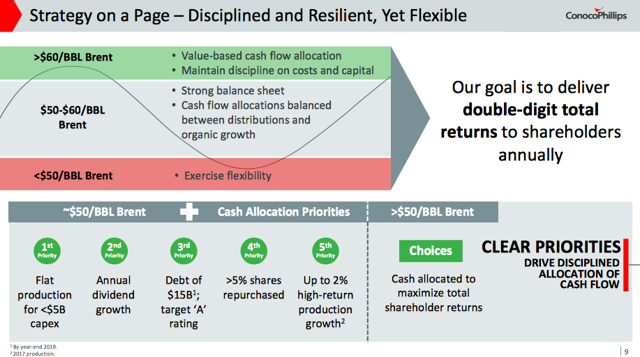 Source: Investor Presentation
A growing volume of free cash flow is also aided by a lower burden that debt places on the bottom line of the company. The company has a plan to reduce nearly $7 billion in debt this year. This is going to be helpful as the company just spent $315 million during Q1 2017 on interest expense, which annualizes out to nearly $1.2 billion. That burden on the bottom line is a large takeaway from the company's ability to generate free cash flow right now, so we have to applaud the aggressive move by management to reduce total debt by $7 billion.
The company has about $26.4 billion in total debt, with just over $1 billion of this becoming due in the short-term. This is easily paid down by the company's cash assets of $3.36 billion, or a combination of cash and free cash flow. Asset sale proceeds of nearly $16 billion in 2017 will also help to aggravate the decline in debt. So, with minimal headwinds related to debt in the short-term whi le crude prices fluctuate heavily, shareholders can direct their focus to due diligence on other investments as this company is extremely well-run and the free cash flow generation is only going to improve as debt comes down.
Another reason to consider buying this stock, especially over other E&Ps, is that the current authorized repurchase program is $6 billion. During Q1 2017, the company repurchased 2.2 million shares, for an approximate value of $100 million. This may not seem drastic, but its recurring buying support that will continue to be present over the coming years. That buying support will help to push this stock higher over the medium to long-term. After crude oil gains some consistency on a positive basket of fundamentals, This stock can easily climb to $65-70 by 2019. That could mean a two-year return of 43%-54%, which is annual returns of nearly 22%-28% before dividends. That's a value proposition worth betting on.
Source: StockCharts
Conclusion
ConocoPhillips is one of the few E&Ps, in my opinion, that really aligns itself with shareholder interests. 2017 is a transformative year for this company, with management aiming to reduce debt rapidly, continue to lower breakevens while maintaining a growing production level, and raising the current dividend and buybacks. After this year, ConocoPhillips will be a lean powerhouse of an E&P and should crude fundamentals have much more stability in a year's time, this stock will begin to deliver staggering returns.
Disclosure: I/we have no positions in any stocks mentioned, but may initiate a long position in COP over the next 72 hours.
I wrote this article myself, and it expresses my own opinions. I am not receiving compensation for it (other than from Seeking Alpha). I have no business relationship with any company whose stock is mentioned in this article.
About this article:ExpandAuthor payment: $35 + $0.01/page view. Authors of PRO articles receive a minimum guaranteed payment of $150-500. Become a contributor »Tagged: Investing Ideas, Long Ideas, Basic Materials, Oil & Gas Drilling & ExplorationProblem with this article? Please tell us. Disagree with this article? Submit your own.Follow Brandon Dempster and get email alerts