Nearly six months ago, I argued that "not much attention had been spent on the possible product refresh announcement of the third-generation Apple (AAPL) Watch". In my view, this fly-under-the-radar product category had the ability to generate $11.8 billion in annual revenues by 2021, based on my conservative estimates.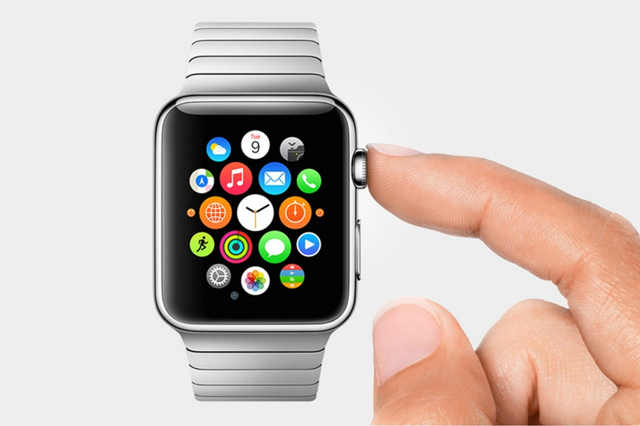 Credit: Cult of Mac
But on Thursday, news from research firm IDC seem to suggest that I may have low-balled what this business could represent for the Cupertino company's future financial results. According to the firm, Apple has almost single-handedly driven the 8% unit sales growth of wearable devices in the 2017 holiday quarter. The Apple Watch is now the market leader in shipment volume, overtaking fitness tracking household name Fitbit (FIT) and Xiaomi (XI) — and now accounting for 21% of the total pie. This represents an eye-catching improvement of over six percentage points in market share over year-ago levels.
See table below, from IDC.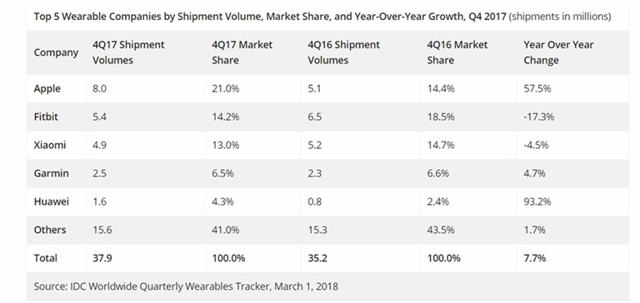 Looking at these numbers, a few thoughts come to mind. First, consumers seem to have received the new version of Apple's wearable device (the Series 3) very well. I already expected the LTE functionality, which allows the device to be fully uncoupled from the iPhone, to be a crowd-pleaser. But with sales of Series 3 in fiscal 1Q18 more than doubling the sales volume of Series 2 a year ago, the ramp up has been unfolding faster than I expected.
Second, the growth in Apple's smartwatch sales has started to pick up steam right as this fragmented market shows early signs of consolidating. Note, from the table above, how the top brands aside from Apple and low-cost maker Huawei have either shrunk or seen modest YOY growth of no more than 5%. In my view, these are the telltale signs of a wearable device industry that is starting to pick apart winners (Apple, possibly Huawei) that will likely control the majority of the space in the not-too-distant future from losers (Fitbit, possibly Xiaomi) that will likely dwindle, die out or be acquired by the larger players.
Further instilling optimism in Apple's watch business, the Cupertino company has become by far the most relevant name in the highest-growth sub-segment of the wearables market: smartwatches. Consumers seem to be ditching fitness trackers for devices that are more function-rich and that can pair up better with other mobile devices that they may own. This trend is evident in Fitbit's desperate attempt to pivot to smartwatches in 2018 and to develop a more complete ecosystem, which Apple has had in place for quite a bit at this point.
Updating my expectations
Given the above, I revisit my forecast for Apple's watch-driven revenues over the next four years.
First, I increase my ASP estimate from $350 flat through 2021 to $380 in a slowly rising trend. With the current product portfolio priced at $329 to start and reaching peaks of $749 for the high-end stainless steel model (I am anticipating immaterial sales from the luxury Hermes series), I believe my original assumptions were a bit too conservative.
Second, I ease my total market growth estimate to 20% per year by 2020. However, I also assume that Apple will be a larger player within that market, generating nearly 45% of smartwatch unit sales by 2021. Lastly, I increase my full-year 2017 revenue estimates to capture what seems to have been a strong second half of sales.
Below is a snapshot of what I expect Apple Watch revenues to look like in the next four years — a $1 billion increase in 2021 over my previous expectations.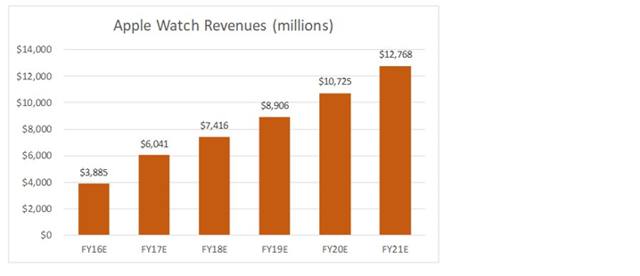 Source: DM Martins Research
Last few words
I have no intention of adding the Apple Watch as a key pillar of my AAPL investment thesis. I believe the company's service revenues, growth in high-end smartphones, revival in the Chinese market and cash deployment will be more meaningful factors driving the stock price up in the future. However, the strength of this "side venture" underscores the power of the company's ecosystem and diversified revenue stream.
I continue to be an AAPL bull, and believe an investment in the stock at current levels (low 15.2x forward earnings, healthy 10% bottom-line, multi-year growth expectations) will likely reward value investors in the long term.
Note from the author: If you have enjoyed this article and would like to receive real-time alerts on future ones, please follow D.M. Martins Research. To do so, scroll up to the top of this screen and click on the orange "Follow" button next to the header, making sure that the "Get email alerts" box remains checked. Thanks for reading.
Disclosure: I am/we are long AAPL.
I wrote this article myself, and it expresses my own opinions. I am not receiving compensation for it (other than from Seeking Alpha). I have no business relationship with any company whose stock is mentioned in this article.
About this article:ExpandAuthor payment: Seeking Alpha pays for exclusive articles. Payment calculations are based on a combination of coverage area, popularity and quality.Tagged: Investing Ideas, Quick Picks & Lists, Technology, Personal ComputersWant to share your opinion on this article? Add a comment.Disagree with this article? Submit your own.To report a factual error in this article, click here