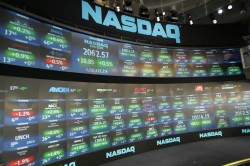 Entree Resources (NYSEAMERICAN:EGI) (TSE:ETG) was downgraded by Zacks Investment Research from a "hold" rating to a "sell" rating in a research report issued on Wednesday.
According to Zacks, "Entree Resources Ltd. is involved in the exploration and development of mineral resource properties primarily in the United States, Mongolia, Peru and Australia. Entree Resources Ltd, formerly known as Entree Gold Inc, is headquartered in Vancouver, Canada. "
Get Entree Resources alerts:
Shares of Entree Resources traded down $0.01, reaching $0.39, on Wednesday, Marketbeat Ratings reports. 40,400 shares of the stock were exchanged, compared to its average volume of 92,796. Entree Resources has a twelve month low of $0.34 and a twelve month high of $0.69.
A hedge fund recently raised its stake in Entree Resources stock. Renaissance Technologies LLC increased its position in shares of Entree Resources Ltd (NYSEAMERICAN:EGI) (TSE:ETG) by 307.5% in the 4th quarter, according to its most recent disclosure with the Securities & Exchange Commission. The institutional investor owned 211,900 shares of the basic materials company's stock after purchasing an additional 159,900 shares during the period. Renaissance Technologies LLC owned approximately 0.12% of Entree Resources worth $128,000 as of its most recent SEC filing.
About Entree Resources
Entr茅e Resources Ltd., an exploration stage company, engages in the exploration of mineral resource properties located in Mongolia, Peru, Australia, and Canada. Its principal property is the Entr茅e/Oyu Tolgoi joint venture property comprising Hugo North Extension copper-gold porphyry deposit and the Heruga copper-gold-molybdenum porphyry deposit located in Mongolia.
Get a free copy of the Zacks research report on Entree Resources (EGI)
For more information about research offerings from Zacks Investment Research, visit Zacks.com