Smart Sand (SND) shares have been struggling in the past few months, to say the least, but this problem is due largely to misperception by the marketplace. Not only does SND have to deal with false oversupply worries plaguing the sand industry, but Smart Sand is also battling a "one-trick pony" perception; which is, being only a Northern White producer, not having local brown sand operations, and not having a last mile solution to transport sand all the way to the well site.
But, since those dark days, a lot has changed for SND. Smart Sand has nearly doubled revenue and net income from where it was a year ago, through increased volumes and pricing. On top of their Oakdale expansion, which is set to almost double output, from 3.3 million to 5.5 million tons, the company has also signed two leases for local brown sand in order to expand into the Permian. Smart Sand reported revenues of $137.2 million for the full year 2017 and were the highest in the history of the company, representing a 132% increase over full year 2016 revenue of $59.2 million.
According to their latest conference call, Chuck Young, CEO of Smart Sand, stated that increases in revenues were primarily due "to higher sales volumes and higher freight revenues resulting from increased shipments to customers to whom we bill freight charges." Net income was $21.5 million for the full year 2017, compared with net income of $10.4 million for the full year 2016, which was an increase of 107% year over year.
Along with those positive developments, now Smart Sand has moved into the last mile market with the recent acquisition of Quickthree, a leading portable vertical storage solutions provider for well site operations in Canada. Now, Smart Sand, due to their expansion plans at their Oakdale mine, signing two local brown sand leases in the Permian, and the Quickthree acquisition can target multiple revenue opportunities in ways that bears are clearly not seeing, offering a compelling entry point long-term for investors.
Quickthree Acquisition Is a Game-Changer
Based in Saskatoon, Saskatchewan, Canada, Quickthree was founded in 2011 by Alvin Herman and his son Erin Herman. Both will continue to work with Smart Sand after the closing. The company has about 90 silos in operation across most basins in North America, and offers an easier solution for truckers to transport sand, supposedly, vs. other systems available on the market.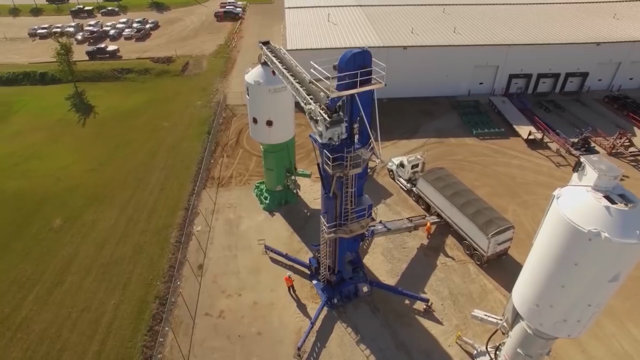 Source: Quickthree website
Here's how Mr. Young sees it:
Quickthree has been operational for some time now and they have units pretty much across most of the basins, [with] a heavy concentration in Canada and the Marcellus. I think the true benefit of this is their ability to unload gravity dump trucks quickly, and as trucking gets more complicated, we feel that this technology really is as a step up above what's out there today in the marketplace.
He went on to say the following during the conference call:
Additionally, our West Texas operation will come with a real component. We believe sand mines belong on rail and we think some of the challenges that are going to take place down in that area of Texas, as it relates to trucks, are going to require to get the terms as short as possible in trucking.
A Move Into Industrial Revenues for Smart Sand?
Quickthree also has other product lines that could give Smart Sand completely new revenue streams, should they so choose to keep those operations from Quickthree in place. Different business lines, such as the QuickstandTrailer, can be applied to many other bulk storage bins, silos, tanks and vessels. Quickthree was also developing vertical use fluid tanks for water and frac fluid, and a low pressure powder storage vessel for storing products like cement powder, gypsum, fly ash and more, before the acquisition. They were even expanding into the guar gum market (which is a huge ingredient used in fracking).
Multiple Revenue Streams to Target
However, Smart Sand may elect to use the vertical storage silos for alternative uses, such as selling other people's sand, playing the spot market, and being able to capture incremental margin on the sale of each grain of sand produced further down their supply chain. As Mr. Young commented on Smart Sand's recent conference call:
Our strategy with [Quickthree silo systems] is that we first and foremost would like to put our sands through that, but we will be open to utilizing this technology. So, we're going to deploy that and we think that our customers don't only buy sand from us they buy sand from other people, so if they want that to help bring down their trucking costs, we have no problem deploying it and not having Smart Sand and go through it.
With regard to playing the spot market, Smart Sand can take advantage of their vertical silos in ways seen by other frac sand companies. In similar fashion to Hi-Crush's (HCLP) PropStream containers, Smart Sand can use Quickthree's silos to act as temporary transload stations to store sand at the well site, grow spot sales, forward deployed sand quicker to customers to meet unanticipated needs, and, as stated above, capture incremental margin on the sale of sand further down the supply chain.
Did Smart Sand Pay an Attractive Price for Quickthree?
Mr. Young would not comment on Quickthree's financial status during the latest conference call, citing that Smart Sand's plans for the silos would be different than Quickthree's. However, judging by peers in the last mile industry, SND looks to have paid an attractive price at $42.75 million. Smart Sand was already in healthy financial condition before the acquisition. The company had plenty of cash, zero debt, and had been posting positive net income year over year.
Total cash from operations has been decreasing each year due to investments made by the company, but net income has steadily risen, as seen by the cash flow statement below: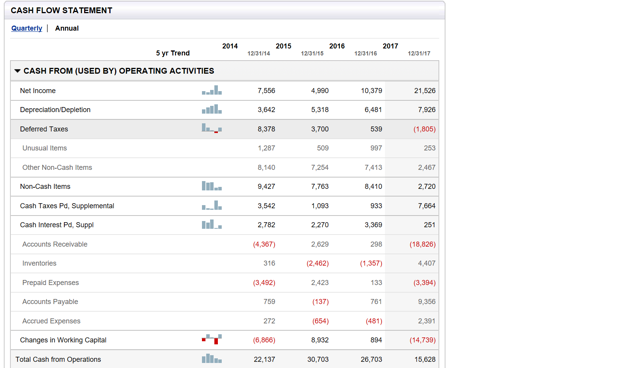 Source: Etrade Financial
As one can see by Smart Sand's balance sheet below, total assets shown are easily more than twice the amount of liabilities. This demonstrates Smart Sand's balance sheet is sound, and an acquisition of Quickthree's stature does not hinder the company in a major way. In fact, SND is still largely debt-free. With the high level of fragmentation that exists in the sand sector, Smart Sand could even be a takeover candidate someday with that kind of clean debt profile.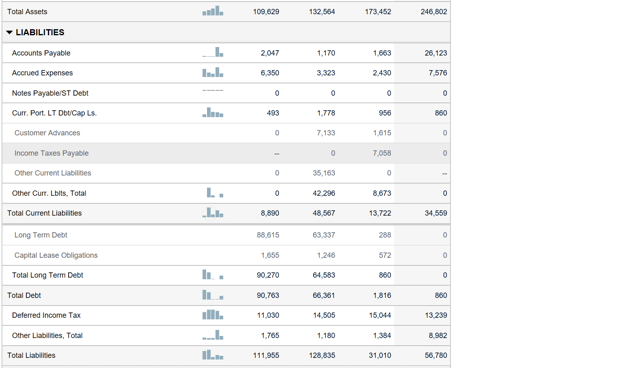 Source: Etrade Financial
Comparing Hi-Crush's PropStream Container Model
As I alluded to earlier, Smart Sand has essentially echoed what Hi-Crush has been saying for months about the advantages of delivery direct to the well site.
Laura Fulton, CFO of Hi-Crush, commented on their latest conference call:
PropStream was crucial in helping alleviate some of the lumpiness in supply from unit train delays experienced in the first quarter by providing us the ability to preload, store, and position containers for customers and additionally, for our own use to support efficient truck loading at Kermit. Like our owned and operated terminal network, PropStream functions as an extension of our storage capabilities during times of system stress.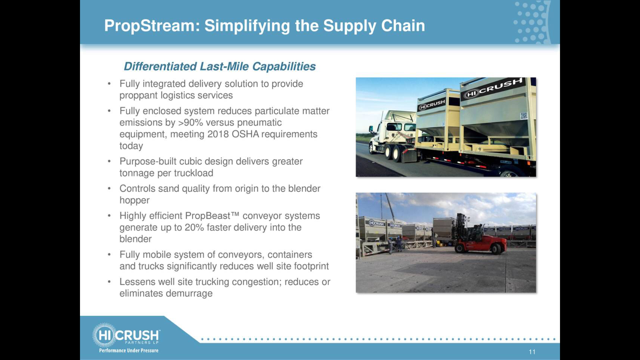 Source: Hi-Crush investor relations
She added that "in Q1 PropStream annualized EBITDA per fleet came in near $1.5M of EBITDA per fleet, working to improving to 13.5 crews on average for the quarter. Active PropStream crews have increased from 10 at the end of Q4 to 12 at the end of Q1 to 13 today."
It is important to note that I am not an expert on vertical storage systems. So, I will be going off numbers provided by close competitors, such as Hi-Crush and U.S. Silica (SLCA). Obviously, investors could use Hi-Crush's model to arrive at a similar number to U.S. Silica's since they both use containers.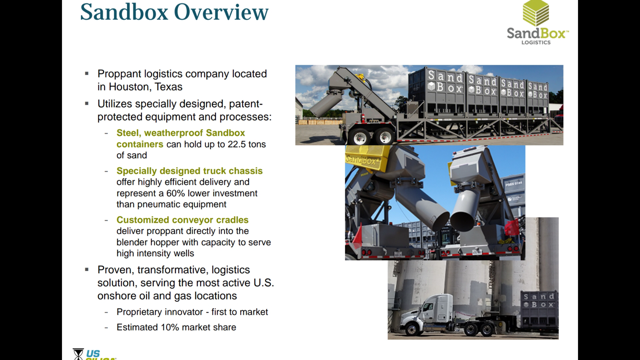 Source: U.S. Silica investor relations
If one takes Hi-Crush's EBITDA per fleet at $1.5 million, and extrapolates a similar number to U.S. Silica's of about $1 million EBITDA per container, then investors could get an idea of last mile container revenue possibilities for frac sand providers, like Smart Sand. So, at a price tag of $43 million, and EBITDA of at least $1 million per fleet seen by other peers' containers in the space, Smart Sand should be able to payback the investment of Quickthree in a relatively short period, without even adding fleets, because there are already 90 silos in operation.
But, again, I am not an expert on vertical silo systems.
Solaris' (SOI) Revenues of Similar Vertical Silos Systems
As one can see from Hi-Crush's last-mile financial metrics, and their strategy used in the container space to access multiple revenue streams, SND should strongly benefit from using its own storage systems.
Fairmount Santrol (FMSA), who uses third-party vendors, have higher costs typically associated with them; and we have already discussed Emerge Energy's (EMES) SandGuard coating abilities for their last mile solution. However, financial metrics are currently limited for SandGuard until more customers adopt the product.
But, can silos actually be a viable strategy for Smart Sand? As we can see below, Solaris' (NYSE:SOI) silos offer unique advantages of their own, vs. containers, and cut down on trucking costs as well.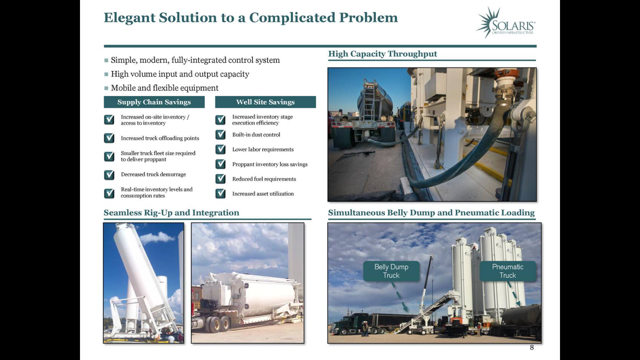 Source: Solaris investor relations
Going a step further, analyzing Solaris's financials might help investors game Smart Sand's move a little bit more. Clearly, what is shown is an upward trend in earnings for Solaris.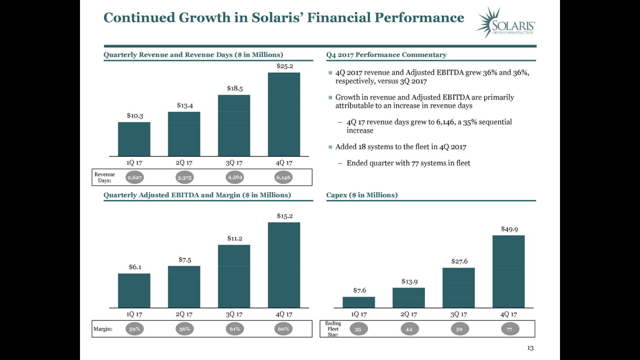 Source: Solaris investor relations
In fact, 2018 highlights were numerable for the company, stated in their most recent quarterly results:
Record net income of $13.4 million Record adjusted EBITDA of $21.9 million; 44% increase versus fourth quarter 2017 and up 259% year over year Record revenue of $36.0 million; 43% increase versus fourth quarter 2017 and up 249% year over year Record 7,673 revenue days; 25% increase versus fourth quarter 2017 and up 192% year over year Added 21 proppant management systems to the rental fleet; total of 98 systems at quarter-end
With 98 systems at quarter-end, stated just above, one would think that the revenues generated of $36 million would be higher. After all, HCLP and SLCA are making about $1 million EBITDA per container. So, when one does some basic math, and divides revenues or net income by the number of silos operated by Solaris, you arrive at a number that's substantially lower than sand companies' EBITDA who use containers.
It is also logical to assume that capex costs associated with adding more fleets for Solaris would be more costly than containers, since containers are less capital intensive than silos. But, I don't have all the numbers, since they are not in the latest conference call or 10-K. So, this is only a rough estimate for Solaris.
Nonetheless, obviously Hi-Crush, U.S. Silica, and Solaris are displaying solid numbers with their last mile divisions; all are posting positive EBITDA, and will continue to grow unabated until more competition steps in (or if oil prices drop for an extended period of time, of course).
Risks to Smart Sand's Story
Barriers to entering the last mile market are high, which should bode well for Smart Sand. While at first barriers seem low, since theoretically anyone could fabricate some boxes to ship sand in, barriers to entry are actually pretty high when considering that most of these systems are patented, must meet stringent dust emissions regulations set by OSHA (which are going into effect this summer), and require close customer relationships.
Acquisitions are always a risk, and it remains to be seen how viable vertical storage silos can be for Smart Sand. Solaris has shown that vertical systems can generate solid revenues at a profit, but they have less operations to worry about than Smart Sand. Smart Sand might also have to deal with a bit of a learning curve, as last mile was not their original core competency. However, last mile solutions should integrate seamlessly into operations, as they are a necessary part of the supply chain for all parties involved. Drillers won't have much of a choice who supplies there last mile, anyway, due to shortages, bottlenecks, and OSHA regulations alluded to above.
Conclusion
It remains to be seen whether Smart Sand can make their silo systems work at a profit. But, judging by peers' financial statements reviewed earlier, SND shouldn't have a problem, especially when considering all of the additional revenue opportunities that come from having a last mile solution.
Maybe Quickthree's last business models were ineffective, hence the reason they sold out to Smart Sand. Or perhaps the Canadian National (CN) railroad strikes, or lack of sand available in Canada, were too much to handle for Quickthree. Whatever the case may have been, SND should have no problem servicing the 90 silos that they now own since they are, indeed, a growing frac sand company (unlike Quickthree).
Smart Sand's plans to transform the company into a fully-integrated, frac sand logistics provider is now complete. Selling other people's sand, along with their own, accessing the spot market, and gaining incremental margin down their supply chain should be a slam dunk going forward (especially if oversupply worries are true).
Frac sand players have all been battling false oversupply issues, to be sure. But, not having local brown sand or last mile delivery solutions were dramatically weighing on Smart Sand's shares, as well. These issues, thankfully, have now been addressed.
Barring any executional errors developing the new brown sand in Texas (which they are already in the design and permitting phase of), ramping their Oakdale mine to 5.5 million tons, or integrating Quickthree into current operations, I believe Smart Sand is significantly undervalued here. It offers a compelling long-term entry point for investors looking to add cheap oil and gas exposure to their portfolio.
Disclosure: I am/we are long SND, FMSA, EMES.
I wrote this article myself, and it expresses my own opinions. I am not receiving compensation for it (other than from Seeking Alpha). I have no business relationship with any company whose stock is mentioned in this article.