The retail apparel business is notoriously difficult. If you stock your stores with the wrong merchandise, consumers balk, and it can take 2-4 quarters to clear out goods at closeout prices and adjust the supply chain for future periods. As a result, it is fairly common for apparel companies to see dramatic cycles in their businesses (and wild gyrations in stock price), with Wall Street only giving them credit for recent results, good or bad. This allows value investors to cease on opportunities, jumping in after a couple bad quarters in order to play a rebound when the company laps poor year-over-year comparisons and gets back in the good graces of the analyst community.
Francesca's (FRAN) went public in 2011 at $17 per share and, in the ensuing seven years, has grown from fewer than 300 boutiques to more than 700. Along the way, there have been good quarters and bad quarters, but the company has maintained strong financial results by focusing on small locations that require minimal capital to build and stock, as well as minimal labor costs.
The result has been above-average margins compared with other bricks-and-mortar retailers. In fact, FRAN has generated double-digit EBITDA margins every year since its IPO, even during periods of negative same-store sales. However, an awful second half of 2017 has been painful for investors, as the company saw Q3 and Q4 same-store sales decline by double digits. Today the stock fetches merely $5 per share, or less than 5 times 2016 GAAP earnings of $1.09 per share.
Struggling retailers often make for poor value investing targets because balance sheets are usually impaired, which limits a company's ability to invest in the business and firmly fix the issues they face. FRAN, however, is in a unique position, as it has grown the business entirely on internally generated cash flow. Despite a miserable last six months, the company still has no debt and has access to an untapped $100 million revolving credit line.
Below is a summary of the last five years of business results, excluding 2017. I find it very helpful to look at this data and ask myself, what do I think this company is worth, roughly, given these historical financials?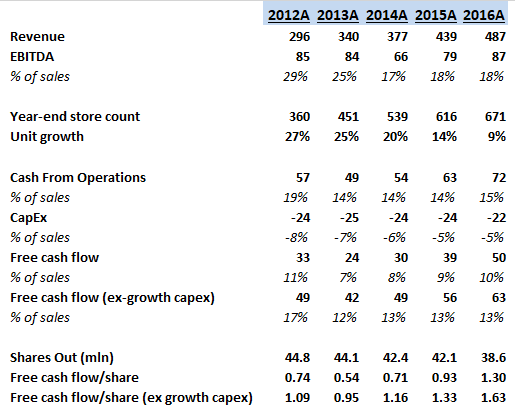 Different people will come to differing conclusions, but what is clear to me is that if we smooth out the results to account for the ups and downs of the apparel retail sector, FRAN is able to generate impressive cash flow due to high teens EBITDA margins. In fact, over these five years, free cash flow margins have ranged between 7% and 11% of revenue and that includes capital expenditures required to build dozens of new locations every year. I have further shown free cash flow excluding new unit capex to show that existing units generate low-double-digit free cash flow margins.
So how much would you be willing to pay for an apparel retailer with over $450 million of annual revenue and, let's conservatively say, 10% cyclically-adjusted free cash flow margins? Normally, the answer would probably be somewhere in the 15-20 times free cash flow range (1.5x-2.0x annual revenue), as that is where the typical public company would be valued. However, we need to discount that because we are dealing with a bricks-and-mortar apparel retailer that is facing intense competition, both offline and online. Wall Street is not going to value a largely mall-based retailer anywhere near 20 times free cash flow. I would probably value a company like this at just 10x free cash flow, or roughly 1 times annual revenue, to be conservative. That price tag would equate to $13 per share, or about 160% above FRAN's current stock price.
Why is the stock trading at such a depressed level ($5 per share, $160 million enterprise value)? It is undoubtedly because 2017 results will fall short of the historical ranges shown above for the past five years and investors are unwilling to assume the business will ever improve.
This is clearly misguided unless you believe the 2011-2016 period was an aberration and FRAN will never reach that level of performance again. While possible, I find that outcome unlikely.
Wall Street currently projects 2017 full-year revenue to fall 3% to $470 million and for earnings per share to drop to $0.52 per share from $1.09 in 2016. As earnings have fallen, the stock has dropped like a rock: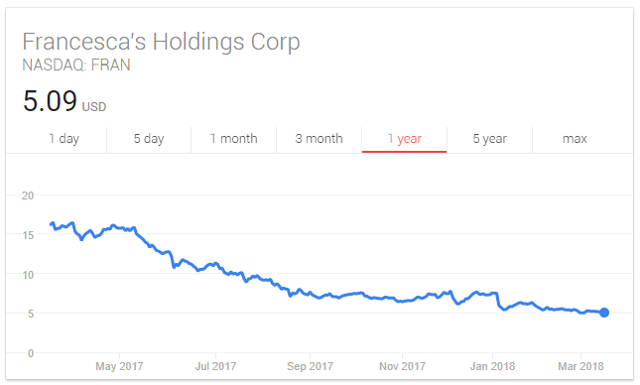 I estimate that 2017 free cash flow will be roughly breakeven including all capital expenditures. EBITDA is likely to drop to $45 million, down about 50% from 2016. However, that has all been more than reflected in the stock price already. FRAN's shares now trade at just 3.6x 2017's depressed EBITDA level.
The upside to this security is evident if the business rebounds as I expect over the next 1-2 years. Apparel stocks are never going to get premium valuations in this highly promotional and competitive environment, but FRAN's business model will likely allow it to easily weather the storm that was 2017 for its product assortment. More normalized results, even if we assume little to no unit growth, as well as no more than a 5-6x EV/EBITDA multiple, would put this stock at much higher levels.
For instance, let's assume sales return to 2016 levels ($487 million) and normalized EBITDA averages 15% of revenue (lower than every year from 2012 to 2016). Using a 5x EV/EBITDA multiple gets you to $10.67 per share. Using a 7.5% free cash flow margin (the six-year average from 2012 to 2017 – assuming 0% for 2017) and a 10% free cash flow multiple, we arrive at $10.15 per share.
These assumptions are hardly overly aggressive. While they do assume that FRAN improves its product assortment in the future, it assumes no future store growth, even though it has a long development pipeline. It also assumes no return on any future free cash flow generation, even though total share count has been reduced from 45 million to 36 million since 2013 due to its share repurchase program.
And the downside seems well protected given the stellar balance sheet ($19 million cash, and no debt). Given that the stock trades at roughly 3.5x 2017 EBITDA, it is hard to argue that the stock is worth less than the current $5 share price.
This appears to be a unique opportunity where the stock is flat if the business does not improve, and could easily double if it does. With a long track record of success (and far fewer fashion misses over the last decade relative to its competitors), the odds appear good that the company gets back on track in the coming quarters. FRAN appears to be a solid contrarian, small-cap investment opportunity.
Disclosure: I am/we are long FRAN.
I wrote this article myself, and it expresses my own opinions. I am not receiving compensation for it (other than from Seeking Alpha). I have no business relationship with any company whose stock is mentioned in this article.