By Parke Shall
Gilead (GILD) management made a great decision in acquiring Kite Pharma, and now we think the stock is heading higher in coming months as we witness what could be one of the biggest sentiment shifts in pharmaceuticals that we have seen in many years.
Our mantra throughout GILD's merger and acquisition process has always been to sit back and trust management. While analysts and investors were constantly pushing management to go out and rush into making an acquisition over the last two years, we begged investors to cut management some slack and allow them to be patient and measured in the way that they chose to make what was going to be an inevitable acquisition.
If you want to refresher on our previous thoughts, you can read two of our previous articles on GILD:
June 4 – "Gilead: The Art of the Deal"
July 28 – "Gilead: Shut Up About the Cash and Let Management Do Their Job"
The acquisition of Kite gives GILD a signifi cant oncology pipeline that we think is going to help engineer a massive sentiment shift about the company on Wall Street that will see its stock appreciate significantly more from here.
The acquisition was beautifully done. It opened up a runway to growth for the company that it otherwise would not have had. Management did not pay too much for Kite relative to what future earnings from the company could possibly be. Finally, management took their time and likely did overwhelming amounts of due diligence and did not pressure its balance sheet too much with the amount of cash that they are going to have to lay out for the acquisition. On all accounts, the acquisition seem to be a success.
GILD was once looked at as a company that was basically in a run off scenario as its current pipeline had seen revenue and cash flow decrease modestly over the last couple of years.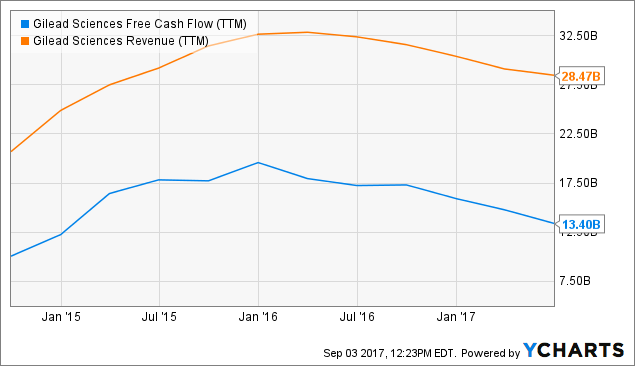 GILD Free Cash Flow (NYSE:TTM) data by YCharts
Investors had all but given up on the company, despite its massive cash balance, over the last couple of quarters. At one recent point, the price hit the low $60 range. But this acquisition breathes new life into GILD as it can leverage Kite's pipeline in conjunction with continuing to collect free cash from its legacy drugs.
The acquisition was widely covered by notable biotech and financial pundits as a possible looming success. Stat's Adam Feuerstein wrote,
Then again, last time Gilead spent $11 billion on an acquisition was Pharmasset and its leading hepatitis C drug. That deal turned out quite well. Gileads hepatitis C drugs, Sovaldi and Harvoni, have been blockbusters, though sales have slowed considerably in recent quarters.
Now, Gilead hopes another acquisition in that $11 billion range, this time for Kite, will be equally successful.
The field of cell therapy has advanced very quickly , to the point where the science and technology have opened a clear path toward a potential cure for patients, Gilead CEO John Milligan said. He called Kite Pharma an excellent strategic fit for his company.
Charley Grant at the Wall Street Journal also wrote,
But Gilead was patient until Monday, and there is little doubt that this management team has earned investors trust as a savvy buyer. Gileads acquisition of hepatitis C-focused Pharmasset in 2011, which came at a 90% premium to Pharmassets market price and sparked worry that Gilead had overpaid, turned out to be one of the most successful biotech deals of all time.
It is unrealistic for investors to expect similarly great results with the Kite acquisition, but it wont necessarily be Gileads last one. While the hepatitis C business had fallen out of favor with investors, it still generates significant amounts of cash flow. Gilead is well-positioned to make other deals if it chooses.
A bright future isnt priced into Gileads stock currently. Taking the other side of that trade is a worthy idea for investors.
On top of that, the company has received favorable analyst coverage and price target hikes from several shops on Wall Street as analysts look to rebuild their models and expectations for the company now that it has hit this transition point.
Even better, GILD still has a cash flow stream coming in from its legacy drugs, as you can see from the above chart.
What this acquisition does is change is GILD from a "value" company with an established pipeline of drugs and very little runway to a company that is a bit more speculative in nature, has more of a uncertain future going forward with regard to its pipeline, but certainly more prospects than it ever has.
This shifts the company from just being a value company to also being a company that has a bit of a call option on its oncology future. This may cause the market to value the company in a slightly more speculative fashion. From this, we expect that GILD's share price will continue to appreciate as bo th value and speculative investors get the best of both worlds: a free cash flow stream that is still intact alongside of a promising future pipeline. Whether Kite's pipeline can be translated into free cash flow down the road remains to be seen. It is GILD managements' responsibility to bridge the gap from where they are to where they are going and, like the acquisition itself, we trust that they can do it effectively. We are long GILD.
Disclosure: I am/we are long GILD.
I wrote this article myself, and it expresses my own opinions. I am not receiving compensation for it (other than from Seeking Alpha). I have no business relationship with any company whose stock is mentioned in this article.
About this article:ExpandAuthor payment: $35 + $0.01/page view. Authors of PRO articles receive a minimum guaranteed payment of $150-500.Tagged: Investing Ideas, Quick Picks & ListsWant to share your opinion on this article? Add a comment.Disagree with this article? Submit your own.To report a factual error in this article, click here