IAMGOLD: Positive News Makes the Stock a Buy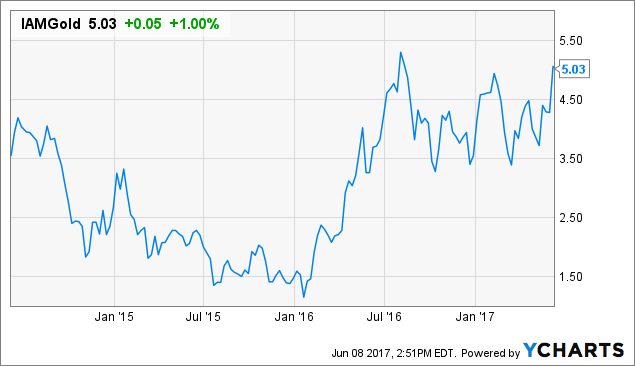 IAG data by YCharts
I've gone back and forth on IAMGOLD (NYSE:IAG) in the past. Back in May of last year, I pointed towards the miner's declining net cash position as a negative sign. But I turned more positive on the stock later that year and in early 2017, saying this could be a turnaround year following several consecutive strong earnings reports.
The last time I covered the stock in May, I pointed towards the company's strong first quarter earnings as another positive sign for the stock. Higher production and lower cash costs led to a 438% increase in gross profits and the miner's available liquidity swooned to more than $1 billion.
Now there has been some unexpected (and positive) news for the miner that only increases my bullishness on the stock.
IAMGOLD Sells 30% of Cote
While the company recently released what I feel are poor pre-feasibility study results on its Cote gold project, IAMGOLD also announced that it has managed to sell a 30% interest in the project to a Japanese-based mining company called Sumitomo for $195 million.
For some background, Cote gold is a huge gold project in Northern Ontario which contains 5.9 million ounces of gold reserves; over a projected 17-year mine life, it's expected to produce 320,000 ounces of gold per year on average, at all-in sustaining costs of $689. The project was acquired in the highly-criticized takeover of Trelawney Mining in 2012, at a cost of $608 million.
For a while it was looking like nothing would come of Cote given the fall in gold prices. While this mine carries low projected cash costs, the initial capital costs are massive, at a projected $1.04 billion based on its pre-feasibility study. That would nearly wipe IAMGOLD dry of its available capital.
Meanwhile, the project's after-tax net present value is just $703 million (at a 5% discount rate, using $1,250 gold prices), so it's hard to justify spending more than $1 billion to get the mine to production. It would take the company nearly five years to get its money back, according to the study, and that assumes no capital overruns or issues with development and production.
Why It's a Good Deal
By selling a 30% stake in Cote, IAMGOLD adds close to $200 million in the bank and it essentially recoups a little over 30% of its initial purchase of the Trelawney acquisition; $100 million is payable upon closing, and the rest payable 18 months upon closin g or when a feasibility study is filed.
IAMGOLD now shares the capital expenditures with Sumitomo; assuming the company moves forward with development, it will be on the hook for 70% of total initial capital expenditures instead of 100%.
That's still a large sum of money to develop Cote, as it would cost the company more than $700 million to get to production based on the pre-feasibility. IAMGOLD will certainly look to optimize the mine plan and lower its upfront costs.
And I don't think there's a guarantee IAMGOLD will want to fund these capital expenditures, however, as it could look to sell more of its equity interest in Cote after the feasibility study is released. Sumitomo is a massive mining company with a market cap exceeding $700 billion, so it can easily afford this expense.
IAMGOLD may be better served developing its various other projects, such as its joint-ventures with TomaGold on Monster Lake, the Boto gold project in Senegal, the Pi tangui project in Brazil, or its Saramacca project in Suriname.
Final Thoughts on IAMGOLD
IAMGOLD's warchest of cash grows; I estimate the miner now has $1.28 billion in cash, cash equivalents and restricted cash following an upfront payment of $100 million by Sumitomo. This is positive news for the reasons mentioned above. The company's strong financial results – combined with its strong balance sheet and exciting development projects – make the stock a solid pick in the gold mining sector, although I still don't view it as favorably as Barrick Gold (NYSE:ABX), Kirkland Lake Gold (OTCQX:KLGDF) and Endeavour Mining (OTCQX:EDVMF). I view any price below $5 per share as a buying opportunity.
Disclosure: I am/we are long KLGDF, EDVMF.
I wrote this article myself, and it expresses my own opinions. I am not receiving compensation for it (other than from Seeking Alpha). I have no business relationship with any company whose stock is mentioned in this article.
Editor's Note: This article discusses one or more securities that do not trade on a major U.S. exchange. Please be aware of the risks associated with these stocks.
About this article:ExpandAuthor payment: $35 + $0.01/page view. Authors of PRO articles receive a minimum guaranteed payment of $150-500. Become a contributor »Tagged: Investing Ideas, Long Ideas, Basic Materials, Gold, Alternative Investing, CanadaProblem with this article? Please tell us. Disagree with this article? Submit your ownFollow Gold Mining Bull and get email alerts