MannKind (NASDAQ:MNKD) investors have had an interesting week. The company announced that Mike Castagna would be the new CEO, and followed that news with an announcement of a deal to move forward on possible Afrezza sales in Brazil. Today the company announced that it has engaged a strategic partner to explore possible deals surrounding its Technosphere technology. Locust Walk will seek possible partnerships for Technosphere in an effort to raise needed capital. With three waves of news, script sales likely took a back seat for the moment, but as savvy investors are aware, the main revenue stream of the company is U.S. sales of Afrezza.
This week, scripts came in at about 270 with new scripts and refills taking a dip. MannKind has struggled to get above 300 scripts per week and maintain growth. Since the company took over the marketing of the inhaled insulin it has only seen script levels above 300 twice. For the better part of a year now scripts have essentially be en treading water. What is needed is meaningful and consistent growth. Sales need to be several times higher than what they currently are for the street to appreciate that Afrezza has a shot in a highly competitive diabetes space. Eleven months ago when MannKind took full control over marketing, script sales were at 266. This past week, sales were at 269. MannKind will point out that the number of cartridges is now higher, but that is a very small consolation to the flatness of the sales trajectory.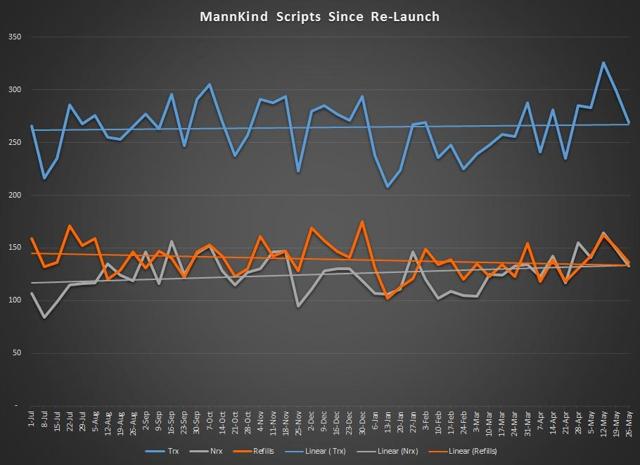 Chart Source – Spencer Osborne
On a quarter-over-quarter basis, Afrezza sales are up 15.87%. This is a bittersweet growth number when you consider that the quarter we are comparing to was the worst full quarter of sales since the initial launch 3 years ago. The direct hire sales force that started in February of this year has, thus far, had a similar trajectory to the contract force that started the re-launch. With Mike Castagna now taking on the role of CEO, the time commitment he can dedicate to the sales side of the house may be challenged. Afrezza sales in Q2 of 2017 are now at 2,219 scripts. This is an average of just 277 scripts per week, or an improvement of about 37 scripts per week over what was seen in Q1.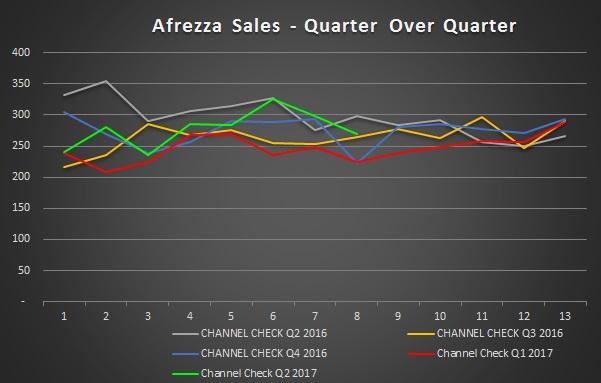 Chart Source – Spencer Osborne
On a year-over-year basis, sales are 11.27% lower than they were a year ago. The current quarter represents the last quarter where MannKind's efforts will be compared to Sanofi's (NYSE:SNY) efforts. Starting next quarter, MannKind will be compared to itself.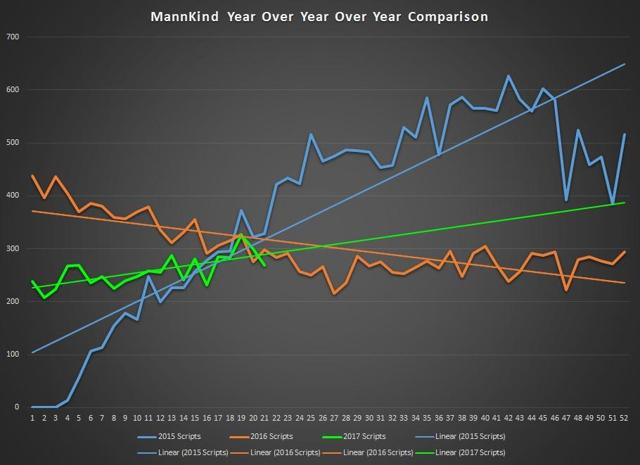 Chart Source – Spencer Osborne
The cash situation at MannKind remains one of the major hurdles of the company. I estimate that the company finished the week of May 26th with $30.2 million in cash and $30.1 million in credit. Modeling the current trend of very stagnant sales has cash running out by mid-August if the company uses cash to pay its debt obligation to Deerfield next month. I have long stated that I feel the company will need to use shares to take care of the July obligation. I arrive at this conclusion based on a covenant that requires the company to have at least $25 million in cash or credit at the end of any quarter. If the company can preserve that $10 million in its cash balance, it can complete Q3 of this year in compliance with the covenant. This should tell investors that negotiations on the Deerfield front are likely ongoing. Other options may be partnering technology in order to raise at least $6 million. That is likely why the company has brought in Locust Walk. Whether investors like it or not, some tough decisions need to be made quickly.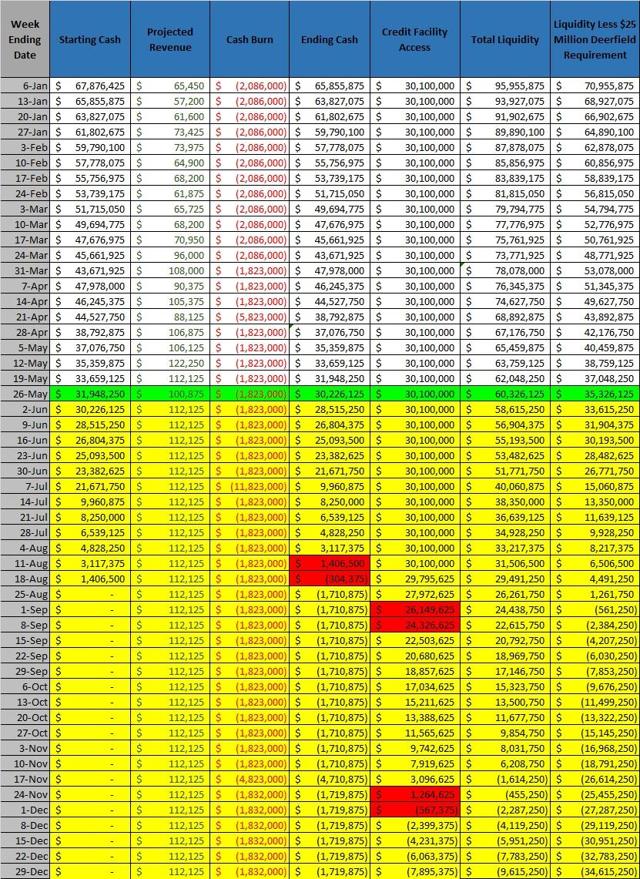 Chart Source – Spencer Osborne
In terms of projections, MannKind is still below what I had estimated for modest growth. I do not think it is likely that sales will pick up enough to beat what I outlined. In my mind that is very concerning. What I projected was quite modest, and the inability to hit even modest growth should be a concern for any investor. The bottom line is that the lack of growth makes it very difficult for MannKind to have leverage in any negotiation.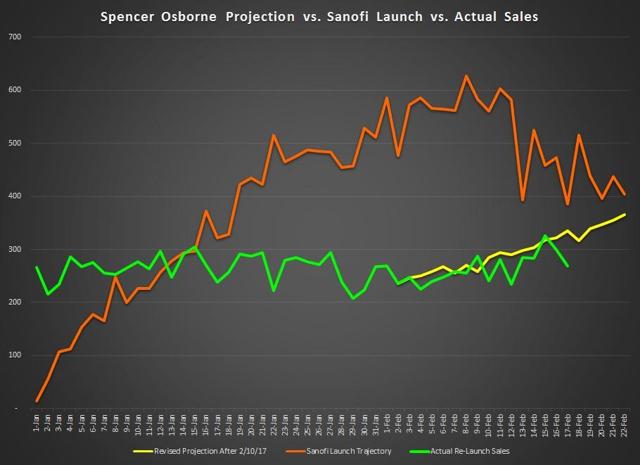 Chart Source – Spencer Osborne
Brazil Deal
When MannKind announced a deal for distribution of Afrezza in Brazil it was met with immediate excitement from passionate MannKind longs. When I read the press release, I noticed that there were no terms announced. That threw a red flag up for me. While having some form of a deal is better than nothing, what was really accomplished here? The lack of a subsequent 8k for a material event confirmed my suspicion that this deal looked better in a press release than it was in reality.
MannKind struck its deal with Biomm SA for distribution of Afrezza in Brazil. According to the press release, Biomm will be responsible for preparing and filing the necessary applications for regulatory approval of Afrezza. Upon satisfactory approval from regulatory bodies, MannKind will manufacture and supply Afrezza to Biomm. Biomm will be responsible for promoting and distributing Afrezza within Brazil.
There is no detai l on whether or not MannKind got upfront money for this deal. There is no detail on what type of revenue sharing this deal has. There is no detail on whether there is a timetable on the actions of Biomm. One has to ask the question of whether this was a deal for the sake of a deal between two struggling companies that need to be able to announce something positive.
MannKind investors should have some concerns here. It is apparent that this deal was not big enough to generate a material event filing with the SEC, and one of the bigger nations in South America is now off of the table. Other potential partners can arrive at similar conclusions to the very question I posed. This could potentially mean that partners will not give up very much in order to partner with a drug that is yet to prove itself as a commercial success.
Approval in Brazil is likely a minimum of nine months away at best.
Locust Walk Deal
The hiring of a strategic partner is an interesting move that likely should have been explored about a year ago. From the sounds of the press release, it could be possible that the Technosphere platform is being put on the market either in segments or possibly as a whole.
Locust Walk markets three prongs of approach. The emerging bio-pharma prong states:
We identify and execute customized partnerin g and financing strategies for early-stage companies. Creating a strong business case and leveraging our access to biopharma decision makers, we pursue multiple avenues to identify and execute deal structures for every stage of your company's lifecycle.
The growth bio-pharma prong states:
We drive asset acquisition and divestiture for growth-oriented companies. From identifying and pursuing companies with unlocked potential to licensing or spinning out non-core assets, we add unique value on both the buy-side and the sell-side.
The medical device prong states:
We work closely with all stages of medical device companies. For early stage, we evaluate the commercialization potential as well as source creative financings with our proprietary model. Further along, we link strategic partners and help maximize value for innovative medical device and digital health companies.
Essentially it appears that MannKind is engaging Locust Walk to bring som e form of deal to the table that can raise some capital, solve the near-term cash crunch, and perhaps generate a second stream of possible revenue. The big hurdle here is the need for upfront cash. This means that Locust needs to find a willing partner that is seeking a new delivery method and willing to look beyond the black box warning that exists with Afrezza, the only current drug on the market utilizing Technosphere.
While the press release does not specifically state this, it is possible that Locust Walk could be a middleman in a full acquisition of Technosphere or even MannKind as a whole. Many long-term longs might like the concept of a sale in theory, but may not be very pleased with the offers that could be put on the table. Those that have bought after the reverse split may be far more comfortable with acquisition talk of any kind.
The Bottom Line
The bottom line here is actually the bottom line MannKind struggles to improve its financials, and seems to be running out of rabbits to pull out of its hat. The company has been successful in getting the stock price into a bit of a recovery mode, but there is a limit to how bullish the street can be without concrete evidence of longer term prospects. The next few months are very critical. Stay Tuned!
Disclosure: I/we have no positions in any stocks mentioned, and no plans to initiate any positions within the next 72 hours.
I wrote this article myself, and it expresses my own opinions. I am not receiving compensation for it (other than from Seeking Alpha). I have no business relationship with any company whose stock is mentioned in this article.
About this article:ExpandAuthor payment: $35 + $0.01/page view. Authors of PRO articles receive a minimum guaranteed payment of $150-500. Become a contributor »Tagged: Investing Ideas, Quick Picks & Lists, Healthcare, BiotechnologyProblem with this article? Please tell us. Disagree with this article? Submit your own.Follow Spencer Osborne and get email alerts