Arrow Loop Research's stock of the week is Williams-Sonoma (WSM).
By Paul Price of Arrow Loop Research
At any given time there are some stocks whose market action makes no sense. They get really cheap even as their fundamentals are doing well. Putrid prices, in conflict with solid numbers, create the best investment opportunities.
Many retail businesses are suffering due to competition from web-based sales in general and Amazon (AMZN) in particular. Neither one of those, though, is a new phenomenon. Some companies have continued to prosper.
Williams-Sonoma (WSM) has been able to adapt and thrive. Since the end of 2009, the firms numbers have been up across the board. FY 2017 (ends Feb. 3, 2018) is expected to establish all-time records once again.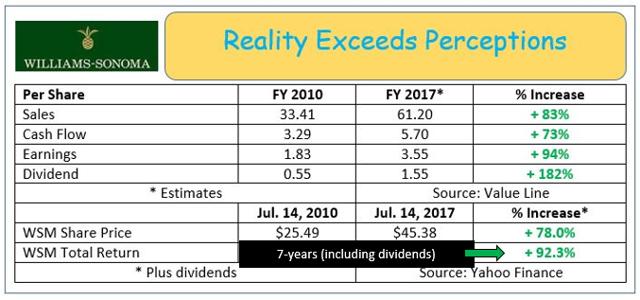 In the midst of raging Amazon-based fear, those solid numbers didnt prevent Williams-Sonomas share price from plunging. WSM closed last week near $45. That was down from a 2015 peak north of $89.
Even after an almost 50% trashing, continuous shareholders have nearly doubled their money over the past seven years.
WSM has a debt-free balance sheet. The company has no defined benefit pension plan or preferred shares. As of Jan. 29, 2017, it held over $300 million in treasury cash and receivables.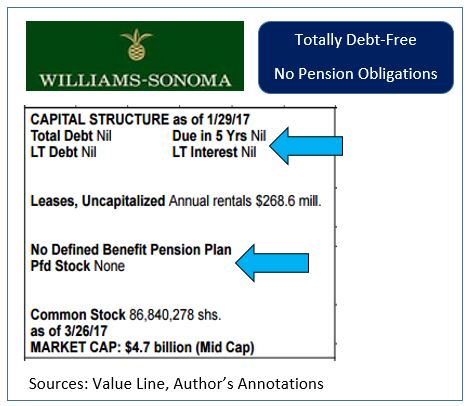 WSMs sound finances, cheap valuation, high yield and consistent profitability make these shares a low-risk proposition. As investors come to their senses its likely they will bounce back simply due to regression to the mean.

Over the previous six years WSM carried an average P/E of 18.0x. WSMs most recent should have sold moments (red-starred below) each occurred with the shares selling for greater than 20x current earnings.
The stock now sits at only 12.8x this years estimate, its lowest multiple since 2011. WSM is offered for less than twelve times Value Lines projection of $3.80 for its FY 2018.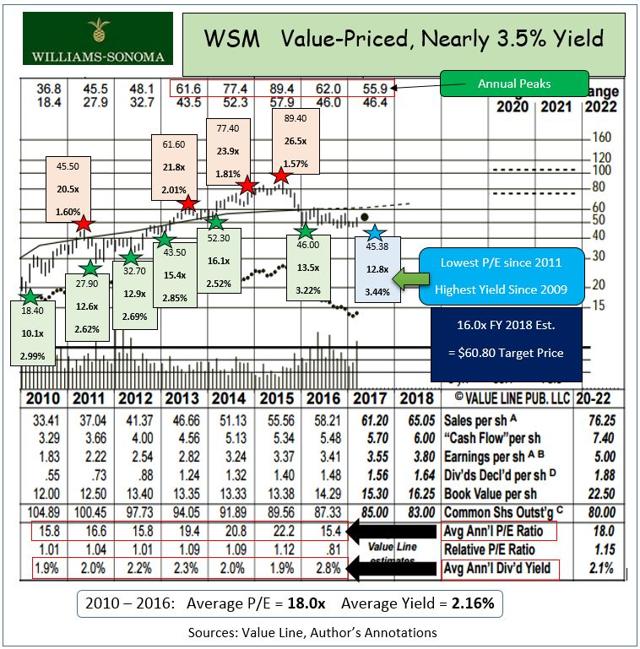 Forget the old normals.
Assume WSM only rebounds to a 16x P/E. That would still support around $61 per share by the end of next year. That modest goal represents a 34% rise on top of the stocks generous, and well-covered, 3.44% yield.
The goal price is quite realistic, not farfetched. WSM carved out highs ranging from $61.60 to $89.40 during each calendar year from 2013 through 2016. Current sales, cash flow, earnings, dividends and book value all register higher than back then.
Independent analysis from Morningstar is slightly more bullish than I was, regarding WSM.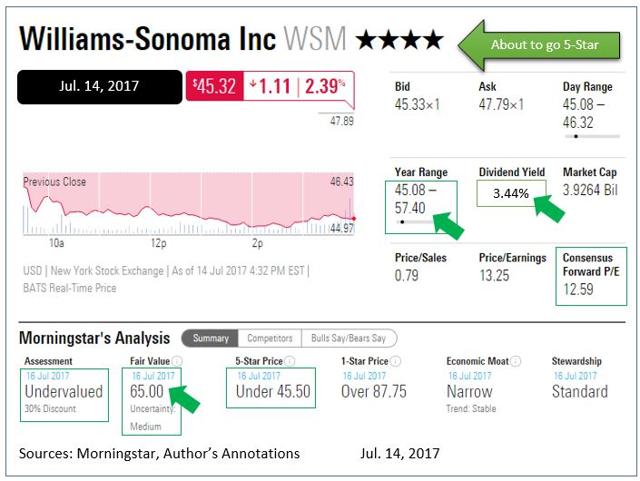 Morningstar sees present-day fair value as $65. Williams-Sonoma broke below their 5-star price point last Friday. That suggests Morningstar is due to announce that new, highest-rated, status on July 17 th.
Option writers can get paid for committing to own WSM at even more virtuous prices than are now available. As of Jul. 14, 2017, put sellers could pocket premiums of $7.40 or $10.30 per share for WSMs Jan. 18, 2019, expiration date $45 or $50 puts.
WSM is attractive already. How good would it look at net entry points of $39.70 or $37.60?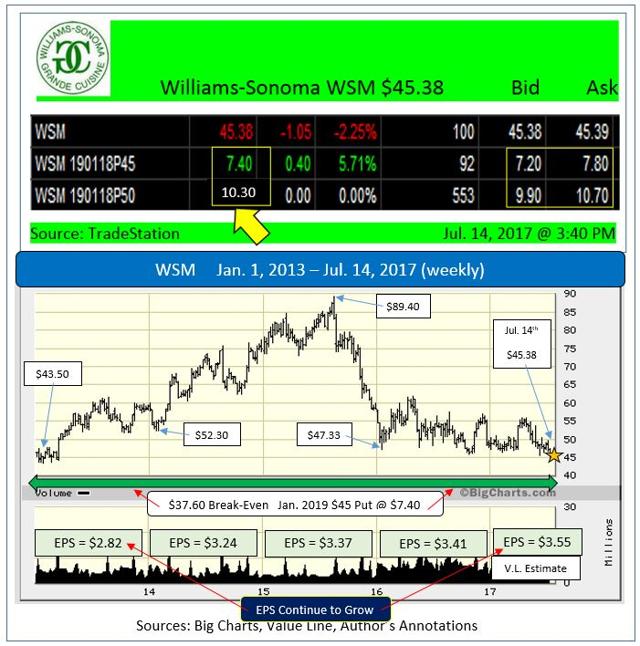 Future stock market action can never be guaranteed. I can say for sure that owning WSM below $40 would have been a winning position 100% of the time dating back to 2012, a year when EPS were on pace for $2.54 and the annual dividend was $0.88 versus todays $1.56.
Ignore the naysayers. Buy some WSM shares, sell some puts or consider doing both.
Disclosure: Long WSM shares, short WSM options.
Disclosure: I am/we are long WSM.
I wrote this article myself, and it expresses my own opinions. I am not receiving compensation for it (other than from Seeking Alpha). I have no business relationship with any company whose stock is mentioned in this article.
Additional disclosure: Long WSM share plus short WSM covered calls and naked puts.
About this article:ExpandAuthor payment: $35 + $0.01/page view. Authors of PRO articles receive a minimum guaranteed payment of $150-500.Tagged: Investing Ideas, Long Ideas, Services, Home Furnishing StoresWant to share your opinion on this article? Add a comment.Disagree with this article? Submit your own.To report a factual error in this article, click here