Best Buy (BBY) shares spiked 6.3% to hit a high of $77.50 during the pre-market on Thursday morning after the company announced blowout earnings. The all-time high for the stock is $78.59 which it reached earlier this year on January 23. The company has shown efficiency in its operations and continues to see growth as shares are up about 140% since the start of 2015. This is kind of surprising given that BBY competes directly with Amazon (AMZN) as they both deliver similar products across a variety of categories including electronics, home appliances, computers, video games, home entertainment systems, and mobile phones. So far, BBY appears to be immune to the "Amazon effect."
Great earnings report
The company beat both top and bottom line estimates by a very wide margin. Revenue came in 6.97% higher than the previous year at $42.15 billion. EPS grew 24.16% in that same time coming to $4.42 per share, beating estimates by 9.31%. On the company's conference call, these gains were attributed to its execution of its Best Buy 2020 strategy, which continues to streamline the online buying process for customers as well as enabled more efficient delivery and in-store pickups.
Comp sales increased YoY, 9% for the quarter and 5.6% for the full year. The large Q4 growth comparison can be attributed to the weaker than expected Q4 last year but the full-year results are again attributed to the company's aggressive execution of the Best Buy 2020 strategy.
Online sales continue to grow despite pressure by Amazon
Online sales, which accounts for 20% of all revenue, increased 18% on the year compared to the 18.6% growth seen last year. Despite the slight slowdown, this growth is extremely impressive given the dominance seen from Amazon in this sector. The continued growth from BBY can probably be partially credited to the company's ability to make the buying process very efficient for customers in the vicinity of a BBY. Unlike an Amazon customer, BBY customers can place an order online and pick it up the same day. This efficiency has been a focus for BBY in the past and will continue to be for the future. An example of this focus can be seen on its mobile app where a customer who orders online for in-store pickup can now tell the store, through the app, when they are on their way to pick up their items. This allows the store to have the items available to the customer as soon as they arrive.
An article published on Forbes.com states that consumers are growing ever so impatient due to the real-time and on-demand services that are available to them through apps such as Amazon Prime, Uber, Lyft, and Postmates. Consumers like to order items online and have them delivered at lightning speed. As stated in the article, "convenience becomes a competitive advantage." With BBY taking steps to make same-day pickup more and more efficient, this could give them a slight advantage over Amazon's two-day delivery as customers can now receive their items that same day.
Total tech support
With the advancement of smart home technology and other electronics in general, the consumer's need to integrate and link these products is a growing concern. Starting this spring, BBY has decided to expand its Geek Squad technical support to not just products purchased from the company but to all products with no discrimination on where the product was purchased from. This support is available 24/7 online, in-store, and over the phone to customers paying an annual fee of $199. While most companies will only provide support for items either manufactured by or purchased from that particular company, Best Buy is trying to eliminate this inconvenience by providing support on all products, from all suppliers, under one roof. Customers should be more comfortable knowing they can get reliable support without the run-around that has become a norm associated with most tech support.
Mobile store closings
In an internal memo to employees on Wednesday, BBY stated its intent to close its 250 Best Buy Mobile stores by May 1. During the conference call, the company addressed any concerns about the decision. When the company first started the mobile store segment, the mobile phone business was in high-demand and growing rapidly, but recently, things have changed. According to CEO Hubert Joly, "Fast forward to 2018 and the mobile phone business has matured, margins have compressed and the cost of operations in our mobile standalone stores is higher than in our big box stores." But BBY is in no way losing focus on the mobile phone business with these store closings, instead, the company believes it makes more sense for the company to continue growing this aspect of the business from inside its big box stores and online.
Looking forward
BBY has been seemingly conservative on its guidance as it started this year with flat top line and flat bottom line estimates. Obviously, the company outperformed by a long shot. This upcoming fiscal year guidance is no different. The company has an expected revenue of $41 billion to $42 billion, comp sales between flat and 2%, operating income is flat compared to this year at 4.5%, and a diluted non-GAAP EPS of $4.80 to $5.00, which is an increase of 9% to 13%. The company states that its increased investments in the supply chain and higher transportation costs will have an annual impact on gross profit of approximately 100 basis points as well as the closing of its mobile stores expected to impact revenue by about $225 million. Despite this negative impact, it projects a flat to slightly positive impact on operating income due to the closings.
BBY has proven that it is dedicated to providing customers with an experience that is more attractive than the peer group, specifically online retailers. The company continues to pour its efforts into streamlining the efficiency for customers shopping at its stores and online as well as providing services that help those customers once they leave.
Going forward, I believe Best Buy will continue to thrive as a brick and mortar retailer despite the growing pressures by Amazon and other digital retailers alike. BBY's dedication to customer service and efficiency is a key standout from the rest of the pack.
Technicals
BBY shares are trading around $73-74 as I write this article while the all-time high is $78.59. The price also currently sits just off the rising 50-day moving average. If this support continues to hold going forward, it provides a low-risk entry as the exit door would be just below the 50-day. I have a near-term price target of $80.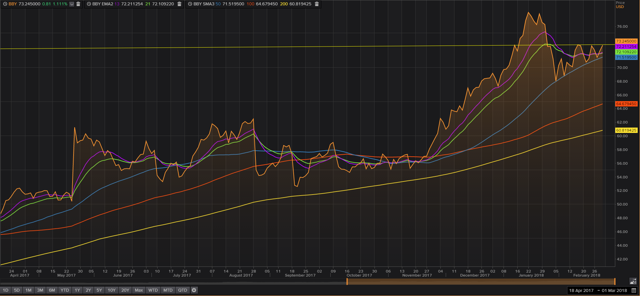 (Source: Thomson Reuters Eikon)
Disclosure: I/we have no positions in any stocks mentioned, but may initiate a long position in BBY over the next 72 hours.
I wrote this article myself, and it expresses my own opinions. I am not receiving compensation for it (other than from Seeking Alpha). I have no business relationship with any company whose stock is mentioned in this article.
About this article:ExpandAuthor payment: Seeking Alpha pays for exclusive articles. Payment calculations are based on a combination of coverage area, popularity and quality.Tagged: Investing Ideas, Long Ideas, Services, Electronics StoresWant to share your opinion on this article? Add a comment.Disagree with this article? Submit your own.To report a factual error in this article, click here