While numerous biotechs work to find the next vaccine for the flu epidemic that wreaked havoc on the U.S. this Winter, Teladoc (TDOC) offers a digital solution that helps prevent the spread of the illness and allow patients to easily get the needed medical care. The stock isn't cheap, but the best play in telehealth is a proven company now.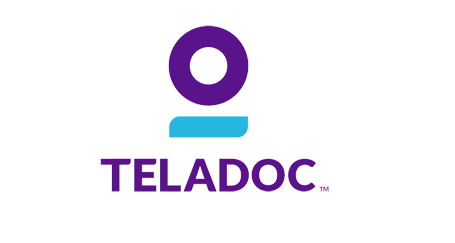 Attractive Model
The company has an attractive subscription model and a developing model that charges per visit. The subscription model generates revenue per user, per month. Other healthcare providers are going for paying fees per visit. Either way, Teladoc has an attractive model of recurring revenues with tons of room for expansion.
The company is growing the subscription revenue per user having reached $0.95 per month, up from only $0.59 last Q4. Utilization rates ended Q4 at only 8.1% leaving plenty of room to bring in new patients from existing customers. The flu season caused a spike in January visits to 8,000 a day with 20% of visitors due to flu related symptoms. The ability to handle the spike in customers proves out the scalability of the platform and helped reduce patients from going to over loaded doctor's offices and exposing other people to the flu.
Due in part to the new business Blue Cross Blue Shield over 50% of visits are related to new customers. The key to the virtual health business is to get customers acquainted to new technologies before mass adoption can occur. Teladoc made a ton of progress on that front over the last few months due in part to offering a better solution than doctor visits for the flu epidemic.
With the inclusion of Best Doctors now, the virtual health concept goes far beyond the convenience to the patient and reduction in infected patients exposing other people in the process of visiting the doctor. Teladoc allows for rural patients to have quicker access to doctors, especially specialists. As well, patients in urban settings can access an expert in another state versus visiting whatever the local market offers. As well, behavioral health benefits from where doctors don't need to physically interact with the patient setting up a perfect growth opportunity. And possibly the best option for a virtual visit is a second opinion on a serious medical condition where Teladoc can immediately link up the patient with an expert in the related field.
Grand View Research predicts fast growth in the U.S. telehealth market over the next five years led by an increase in services revenues and less focus on hardware solutions.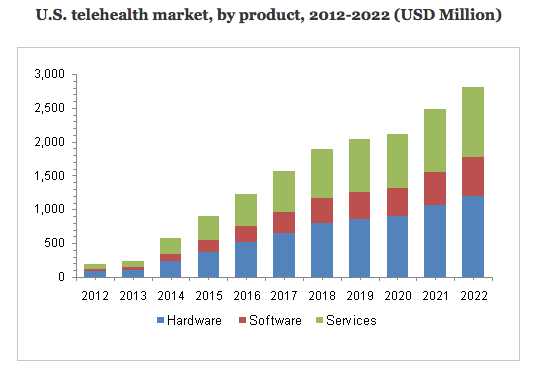 Valuation
My investment thesis remains intact so that those buying last year in the low $30s are sitting pretty here. The growth initiatives are playing out as expected and more and more health organizations are moving towards telehealth to provide better options for members and ultimately save money.
The Best Doctors integration is going well creating the best of breed solution in the category to grab more customers this year. TRICARE will onboard another 9 million members on April 1 setting up a year of solid growth. Teladoc guided towards $355 million in '18 revenues with the following key metrics: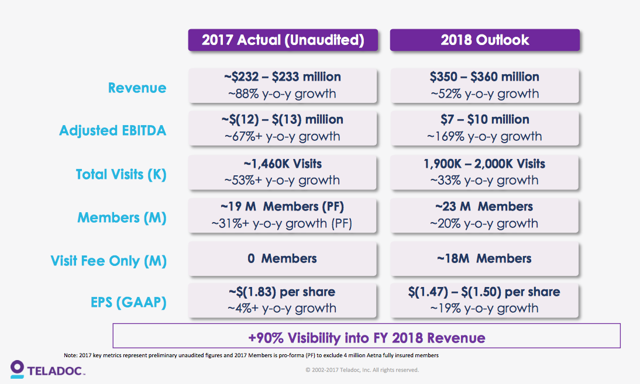 Source: Teladoc presentation
The reason to own the stock is that member utilization rates were down at only 6% for all last year. Teladoc has the potential to grow the member base and substantially expand the utilization rate leading analysts to a '19 revenue target of $450 million.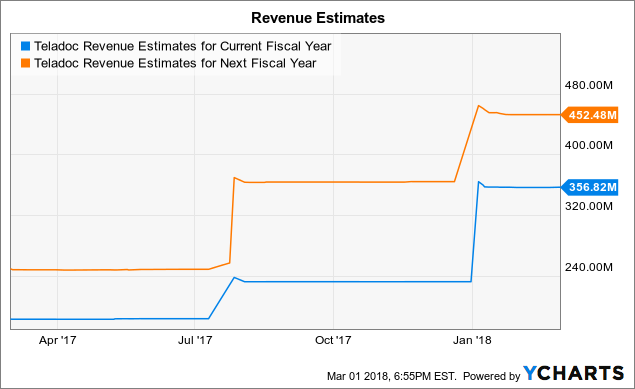 TDOC Revenue Estimates for Current Fiscal Year data by YCharts
The company isn't targeting positive cash flows until 2020 so investors don't want to get overly aggressive chasing the stock at record highs. Teladoc trades at about 5x forward revenue estimates so trading here blow $40 is the maximum to pay in order to ensure a solid return over the next year.
Takeaway
The key investor takeaway is that Teladoc is an innovative leader in the fast growing telehealth sector. The company is busy acquiring members so the focal point is growth and not cash flows at this point. The flu epidemic helped prove out the business case setting up Teladoc to robust growth in the next year. The stock is a solid buy below $40.
Disclosure: I/we have no positions in any stocks mentioned, and no plans to initiate any positions within the next 72 hours.
I wrote this article myself, and it expresses my own opinions. I am not receiving compensation for it (other than from Seeking Alpha). I have no business relationship with any company whose stock is mentioned in this article.
Additional disclosure: The information contained herein is for informational purposes only. Nothing in this article should be taken as a solicitation to purchase or sell securities. Before buying or selling any stock you should do your own research and reach your own conclusion or consult a financial advisor. Investing includes risks, including loss of principal.
About this article:ExpandAuthor payment: Seeking Alpha pays for exclusive articles. Payment calculations are based on a combination of coverage area, popularity and quality.Tagged: Investing Ideas, Long Ideas, Healthcare, Specialized Health ServicesWant to share your opinion on this article? Add a comment.Disagree with this article? Submit your own.To report a factual error in this article, click here