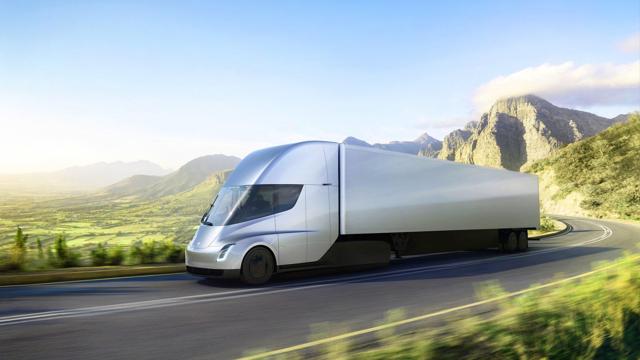 Since theres a lot of speculation out there, I feel I should add more information on Teslas (TSLA) truck and what it implies. So here we go.
No Sleeper Cab
One of the first things some truckers noticed is that the initial Tesla truck versions dont have a sleeper cab. Its actually very easy to explain why this is so, given available information. Consider the following:
Heres a shot of the cabs interior. Notice how the back panel ends a bit after the window (red highlight is mine):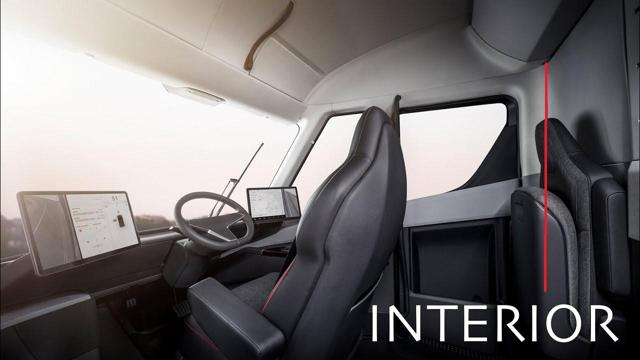 Heres what this implies looking from the outside (red highlight is mine):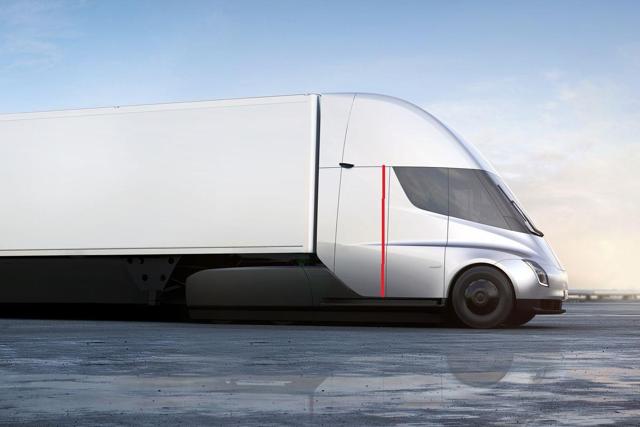 Now heres a Tesla prototype mule caught in the wild, before the unveiling. Notice that block after the cab (highlight is mine):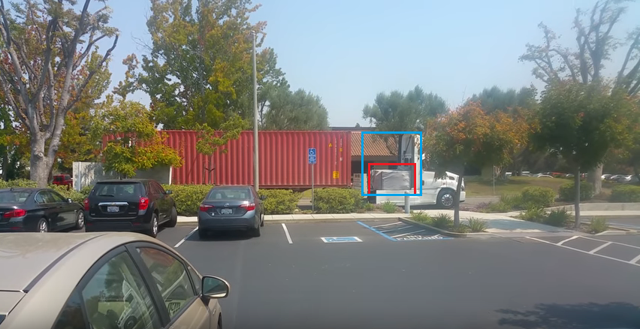 Now here are two frame grabs from a video showing the semis drivetrain (looks pretty heavy and expensive, by the way) occupying the entire space behind the cab (and thus leaving no room for batteries):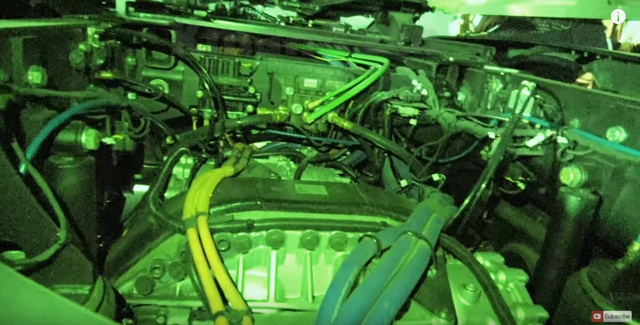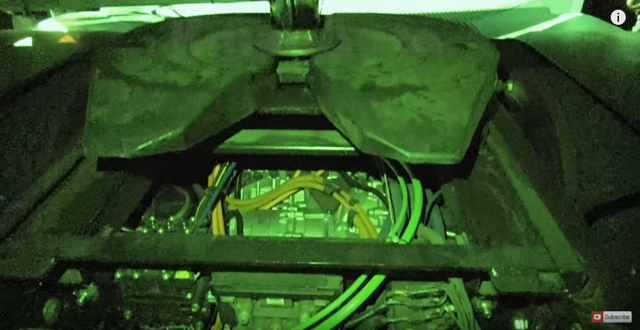 Putting these all together, youll notice that the remaining place thats viable to store the batteries (more on those later) is here: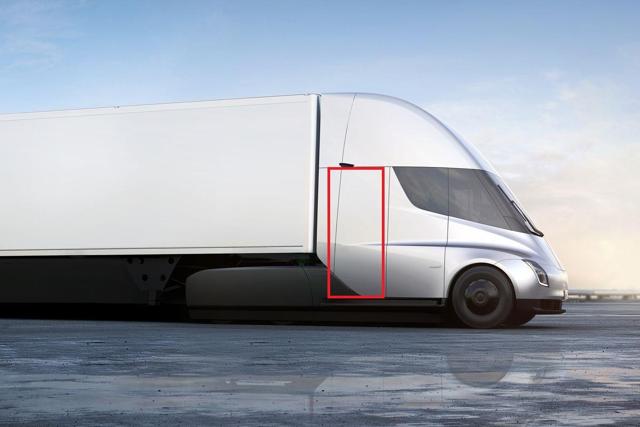 As is obvious, thats the space which would otherwise be allocated to the sleeping quarters. Theres batteries in there, and hence no sleeping quarters. This will be hard to change using the present format, given the size of the batteries.
Battery Capacity
Tesla tries to re-use its technology and modules wherever it can. For a niche market like trucks, this would be even more important as volumes will be lower than any of its current cars. As a result, we can pretty much guess that most of what you see regarding Tesla Semi specs is based on existing or soon-to-be available Tesla modules.
Initially, I thought Tesla would be using 100kWh packs for the trucks battery, 10 of them. This gave us an easy 1,000kWh (1MWh) capacity. This was in line with the 500 miles of range under optimal conditions, at a consumption of less than 2kWh/mile as per Tesla. 500 x 2 = 1000 and were done with it.
However, a new piece of information made me change my estimate slightly. The piece of information is the shape of the Tesla Semi charging port (YouTube frame grab):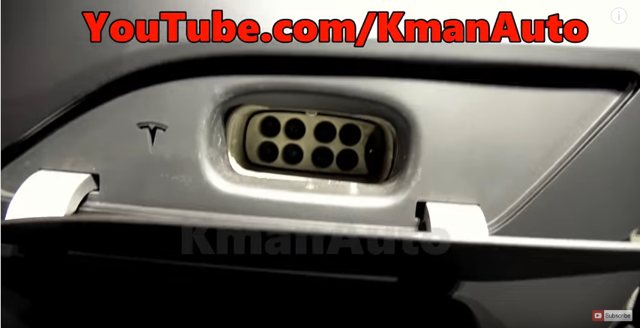 As we can see, this port basically has connectors for 8 Superchargers, not 10 – likely using a single plug. While this doesn't necessarily imply 8 underlying batteries, for sake of the system's simplicity it likely does (since each battery would manage its own charge without further system complexity other than what could be handled in software alone).
Given this, my estimate for the number of batteries fell from 10 to 8. Yet, the capacity must still be near 1MWh, as per the calculation above. So whats my best guess about these batteries? Its simple: they are 8 120kWh batteries, probably enabled by the higher density on the 2170 batteries, which should make their way into the Model S and X battery packs by 2019/2020.
8x120kWh batteries come to a 960kWh capacity. Close enough to 1,000kWh, and implying 1.92kWh/mile consumption for the truck (at 60mph, flat terrain, full 80,000kb load). 1.92kWh/mile is below 2kWh/mile but close, as is customary with Tesla.
Charging Speed
Enthused by the mega batteries and talk of Megachargers, Tesla fans probably think Tesla is just about to field a massive charging breakthrough. After all, even charging a 960kWh battery to 80% capacity would require a charger capable of 1,536kW, or just a hair over 1.5MW indeed, a Megacharger.
However, its quite easy to explain how this charging capacity is arrived at, and it involves no breakthrough. It just involves deployment of existing technology under a specific configuration able to provide those specs.
A bit of background here:
A Supercharger is basically an AC-DC converter. For sake of simplicity, Tesla has always used the same charger AC-DC modules it uses in its cars (when plugged to AC power) to build its Superchargers. Initially, Tesla used 9 such modules, which were each operated at 36 amps/277 volts for 10kW (the modules were specd at 40 amps). This gave the Superchargers a 90kW charging capacity. Then, Tesla added 3 more modules, for 12 such modules. The power also was pushed up to the 40 amps spec, thus taking each module to 11kW. Thus, 12 x 11 = 132kW. This was then further increased to 12kW per module, for the current 145kW capacity, which is then divided per 2 stalls. It should be noticed that the rates above are before conversion inefficiencies, so even the 145kW chargers only supply 130kW or so (at 90% efficiency). The present cars accept up to 120kW. So what comes next in this sequence? Well, Tesla already has 72 amp charging modules, which come as standard in its Model S and X cars. These modules can thus handle 20kW each. 12 of these and thus a rather unchanged Supercharger design can thus handle 240kW, which at a 90% conversion efficiency turns to be ~216kW.
So here we are, theres a clear path to an effective 216kW Supercharger. Now, remember, the truck can handle 8 such connections. 8 x 216 = 1,728kW, or slightly above the needed 1,536kW to provide the 400 mile range in 30 minutes, with no breakthroughs. Its simply a multiplication of what already exists. 12 charging modules (using the latest 72 amp module) x 8 Superchargers.
This also explains why Elon Musk said 350kW was a childrens toy: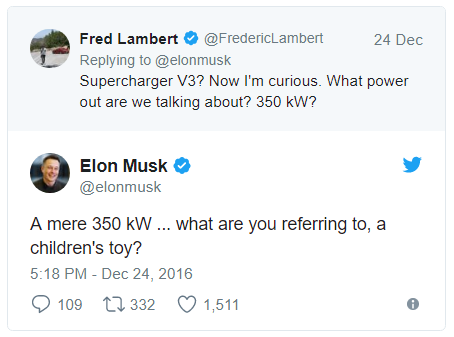 Though Elon also is being a bit misleading there, as each Supercharger is actually only able to handle 216kW in this obvious scenario. Still, the Megacharger puts out (will put out) up to 1.7MW, and that sounds a lot more impressive than 350kW.
The Price
As of yesterday, Tesla put out estimated prices for the Tesla Semi. These were as follows (red highlight is mine):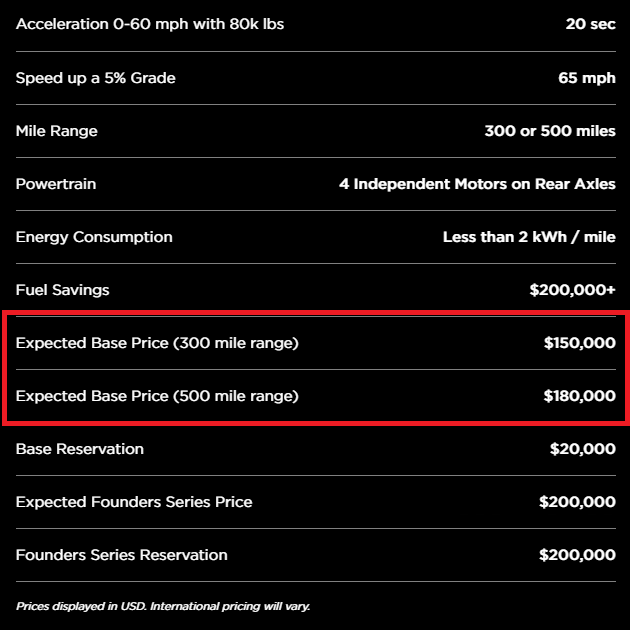 With the 500 mile version using 8 120kWh battery modules, the 300 mile version would likely require 5 of the same modules, or 8 or lower capacity modules.
The price for the 500 mile version is roughly $40,000 over a comparable diesel Semi today. It is, in my view, an unrealistic price through several different perspectives. For instance:
At $120/kWh (at the pack level, this is already optimistic), the battery alone would cost $115,200. Thats before anything else, including the whole truck, the 4 motors and associated electronics and gearboxes, etc. Mind you, to compensate the weight on those batteries, the truck would use carbon fiber where and aluminum where others use steel and fiberglass. That is, the truck alone would already be much more expensive to build than a regular truck, never mind the battery. Simply comparing to a loaded Model X (including EAP) shows the weirdness of it all. Such a Model X goes for $151,000. Now, this is a huge truck: with 10 truck tires instead of 4 car tires (which cost ~60% of a truck tire each); 4 motors and associated gearboxes and electronics instead of 2; 2 displays in the interior; carbon fiber; sheer material usage; massively lower fixed cost dilution (due to lower production); 8 battery packs (the most expensive component) instead of 1; more extensive cooling (not yet on the prototype, but will be required for climbing grades and regen); and so on and so forth. Its totally ludicrous that such componentry would allow for margins and a price just 20% higher than a Model X. Moreover, on battery pricing, Tesla is promising an additional 360kWh for just $30,000 more. Compare that to the Model S/X, where ~25kWh more cost $16,500. Or to the Model 3, where ~23kWh more cost $9,000. Its obvious that Tesla always prices battery additions at a large premium yet it would do differently with the Tesla Semi? No way.
Here, on the battery side, Tesla fans will scream battery breakthrough. Let me comment on that.
Battery Breakthrough
The implied price for the estimated 360kWh addition between the 300-mile and 500-mile Tesla truck is ~$83.3/kWh (at the pack level no less, and at cost). This leads Tesla fans to think Tesla has some kind of battery breakthrough in the works.
Well, let me state plainly: there is no possible battery breakthrough for Tesla any longer. The reason is simple and set in contract: Tesla has contracted with Panasonic for an investment in battery cell production equipment and related operation within the Gigafactory. This contract guarantees Panasonic a return on the investment made by it, using said equipment and production process. The contract will run over many years as it just started during 2017.
Why isnt there room for any battery breakthroughs, then? Because any battery breakthrough would have to provide an economic return itself, and pay the return on the previous, now obsolete, capital and production process as well.
This works the same as hedging your cost of crude by buying it forward at $50/barrel. If crude then drops to $10/barrel, you can't have any of the implied cost reduction, because you effectively already have to pay it at $50/barrel. Tesla has already bought forward from Panasonic the batteries it will use, by guaranteeing Panasonic a "cost plus" contract – those batteries will only change in absolute price depending on input price variation. This means the Tesla will have incredibly cheap batteries in 2019/2020 myth can be taken off the table.
Conclusion
There are many conclusions to be drawn here:
The present Tesla Semi design cannot accommodate a sleeper version. A longer cab would be required, given battery placement. The truck will likely have around 960kWh in battery capacity, through the use of 8 battery packs. These battery packs might well appear on the new Model S and Xs, when those launch (Tesla needs to start work on the new Model S, by the way). The charging speed requires no breakthrough. Its simply the expectable spec on 8 current Superchargers using the latest 72 amp charging modules Tesla is already shipping. The truck is priced to produce a loss. Battery breakthroughs are something Tesla can no longer count on, as it has already contracted with Panasonic to provide a positive return on the existing technology. Battery breakthroughs, if they happen, will be negative for Tesla due to this.
Disclosure: I am/we are short TSLA.
I wrote this article myself, and it expresses my own opinions. I am not receiving compensation for it (other than from Seeking Alpha). I have no business relationship with any company whose stock is mentioned in this article.
About this article:ExpandAuthor payment: $35 + $0.01/page view. Authors of PRO articles receive a minimum guaranteed payment of $150-500.Tagged: Investing Ideas, Short Ideas, Consumer Goods, Auto Manufacturers – MajorWant to share your opinion on this article? Add a comment.Disagree with this article? Submit your own.To report a factual error in this article, click here