In the age of the smartphone, distracted driving has become a massive problem.
A whopping 94% of teenage drivers acknowledge the dangers of texting while driving, according to a recent AAA poll. But 35% of these same teens say they do it anyway.
Our smartphone distractions have gotten so bad that some municipalities are now trying to crack down on distracted walking. In our crazy world, pedestrians eyes are glued to their devices instead of watching for traffic. A new law up for debate in Boston would dole out fines of up to $200 for jaywalkers who are caught crossing with their faces buried in their phones.
Were addicted to our phones. Textings not the only culprit. Whether its online shopping, watching videos or flipping through social media updates, we cant put down our devices.
One study claims users check Facebook on their phones an average of 14 times per day. No wonder the stock is shooting toward its all-time highs this week
At first glance, building an addictive social media product looks simple enough. Mix up just the right amount of status updates, likes, and favorites and you have a feedback loop that can reel in millions of users.
Then theres Twitter the social media also-ran investors left for dead years ago.
I call Twitter social medias red-headed stepchild. Not only do investors shun the stock, no one seems to know how to get its business on the right track. For the past couple of years, weve watched the Twitter management team flop around aimlessly as they try to implement something resembling a turnaround plan.
Theyve tried every bad idea in the books, from shuffling tweets around in users timelines to giving everyone the ability to write 280-character posts. But each improvement seems to make the service just a little more unbearable. Face it, no ones walking out into traffic because they cant peel their eyes away from their Twitter timeline.
Twitters inability to innovate and properly monetize its platform has scared most investors away from the stock. Management ineptitude has always been the primary concern of analysts and investors.
But something is changing. Twitter stock spent the better part of the past two years bottoming out. Now its starting to wake up.
Since the beginning of 2015, Twitter stock is down by almost 40%. Meanwhile, Facebook shares have streaked higher by almost 135% over the same timeframe. Only a lunatic would have picked Twitter instead of Facebook over the past three years.
But the tables have turned. Twitter is trying to take the lead. While its nowhere as big or as powerful as the mighty Facebook, Twitter stock is sneaking ahead of one of the markets most popular tech names.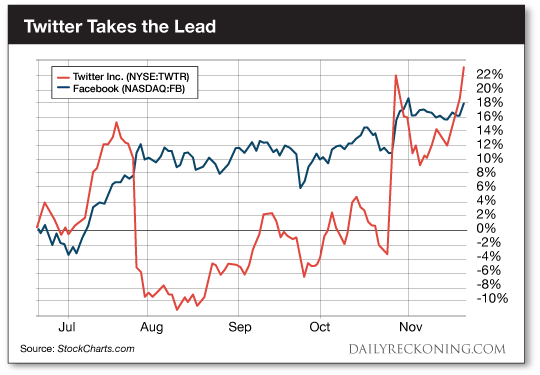 Over the past five months, Facebook shares are up more than 18%. But thanks to a recent surge, Twitter is leaping ahead of the social media pack from a performance standpoint. Its up more than 23% since late June.
Back in October, we told you Twitter looked like it was finally putting in a bottom. Shares bounced off $14 not once but twice first in 2016, then earlier this year. Now were finally seeing the spark this stock needs to build a meaningful rally.
Weve already witnessed Twitter beat third-quarter earnings estimates. The earnings surprise gave the stock the spark it needed to jump back above $20. Now were witnessing some follow-through as shares posted new 52-week highs yesterday.
I dont know if Twitter will achieve profitability next quarter. I also dont know if the platform can attract new users and grow to compete with some of the flashier social media companies out there. But I do know a breakout when I see one. Dont ignore it!
Sincerely,
Greg Guenthner
forThe Daily Reckoning