"Oh man, I already missed out on the 'Melt Up.' I should have bought exciting tech companies like Facebook and Google a year ago. Now, it's too late…" I hear that all the time. But – my friend – you're wrong… You haven't missed the Melt Up – at all. In the last year, Alphabet (GOOGL) – the parent company of Google – is up nearly 16%. Facebook (FB) is up around 33%. Those are good returns, for sure. But they don't tell the full story… The surprising truth is that over the last year, the boring, old-school companies of the Dow Jones Industrial Average have beaten the "hip" tech names in the Nasdaq Composite Index. Take a look…
Tech vs. Old School
Index
12-Month Total Return
Nasdaq
22.6%
Dow Jones
25.5%
These indexes are pretty darn different… The five companies with the biggest weights in the Nasdaq are exactly what you would expect – the big tech giants: Apple (AAPL), Alphabet, Microsoft (MSFT), Facebook, and Amazon (AMZN). Meanwhile, the companies with the biggest weightings in the Dow Industrials are old-school American businesses, for the most part: plane-maker Boeing (BA), investment bank Goldman Sachs (GS), manufacturing titan 3M (MMM), health-insurance provider UnitedHealth (UNH), home-improvement giant Home Depot (HD), and fast-food leader McDonald's (MCD). Ninety-nine out of 100 investors would have guessed the tech-heavy Nasdaq would have beaten the old-school names in the Dow Industrials over the last year. But they would have guessed wrong. The truth is, these two differing indexes have actually followed a fairly similar path over the last year. The Dow has just come out on top. You can see it in this chart: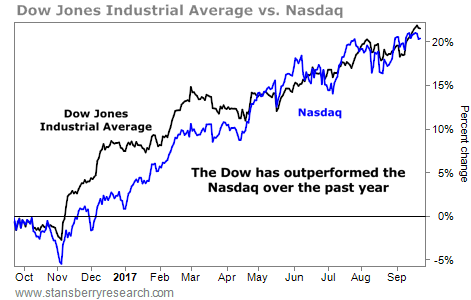 This tells me that you haven't missed the true Melt Up stage yet – where the most speculative names separate themselves from the old-school names and take off. That's what we saw in 1999… For almost half of the last year of the tech boom, the tech names and the old-school names tracked each other. But then things changed dramatically… Take a look: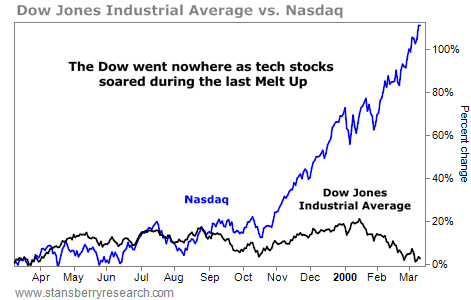 By the end of the last 12 months of the dot-com boom, the tech-heavy Nasdaq was up more than 100% – meanwhile, the Dow delivered ZERO return. Again, it's great that tech names have done well in the last year – but it's not surprising. Stocks are in a bull market. What's more amazing to me is that the old-school names in the Dow have outperformed the tech names in the Nasdaq. And importantly, this tells me you haven't missed the Melt Up yet – the final months when the more speculative names start to blast off. I believe that it hasn't even started yet… But it will… You can offer up a lot of excuses for why you're not invested. But don't tell me, "I already missed out on the Melt Up." That excuse is no good with me. You haven't missed it yet. So if you're not invested, you still have time to fix it. Get in, now… Good investing, Steve
P.S. I believe this could be the last great bull market we'll see in our lifetimes. And if you make the right moves today, you may never have to worry about money again. That's why I've put together the research to show you exactly how to capitalize on the Melt Up – and how to get out before it all ends. Click here to learn more.